Conductors possess an unmistakable magnetism, captivating audiences through movements and gestures ranging from calm and restrained to wild and boisterous. But behind each unique gesture resides vital meaning, conveying tempo, style, and instruction to the musicians on stage while interpreting the composer's intentions from hundreds of notes on a page. It's a daunting undertaking that requires leadership, talent, charisma, and a penchant for the dramatic.
For the Colorado Symphony's new Principal Conductor, Peter Oundjian, the allure of the podium was present even from an early age.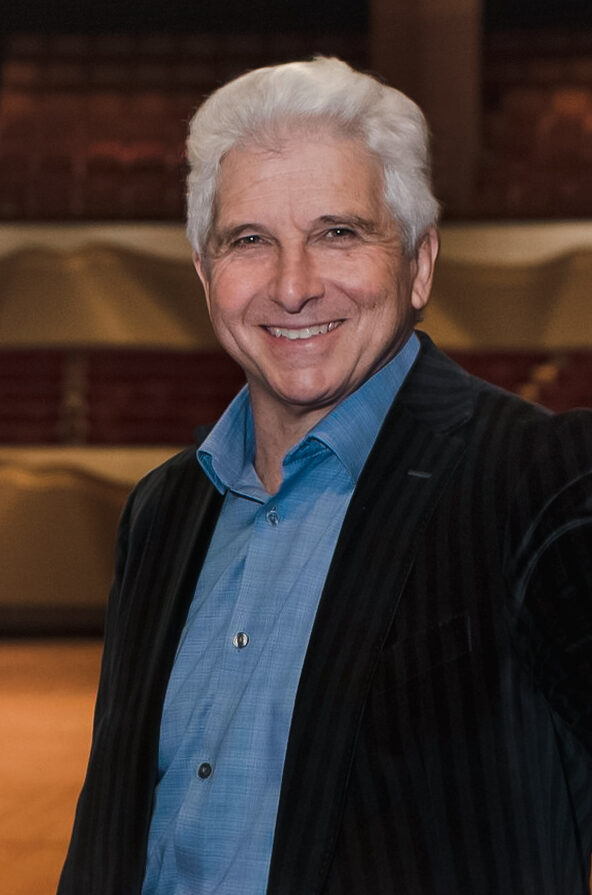 "I was at a little school in England which had a very good choir and the first time I realized what a conductor could do was when Benjamin Britten came into my school choir room to audition us," said Oundjian. "We were singing songs from Britten's Friday Afternoons; we'd worked hard on them and our choir master was very good for a school choir master but he wasn't Benjamin Britten. And when Britten came in and started to cajole us and move in his way and share his musical energy with us, it was unrecognizable the way we sounded and I was really struck by that."
With a career spanning more than 40 years, Oundjian has been celebrated in the US and abroad for his musicality, commitment to mentoring young musicians, and an engaging charisma that instantly puts musicians, students, and audiences at ease. But despite Britten's early impact and the undeniable draw of the podium, his first love was the violin and his skill with the instrument took him all the way to Julliard to continue his studies. Yet he couldn't escape the lure of the podium completely.
"I came to Julliard in New York when I was 19 and you have to take a second study so I chose conducting."
It was at Julliard in 1976 that he got his first burst of confidence during an encounter with the legendary Herbert von Karajan, longtime principal conductor of the Berlin Philharmonic. At a master class that year, the eminent maestro asked Oundjian to conduct, unprepared, a Brahms symphonic movement without a score.
"I was studying conducting at Juilliard, but I wasn't one of the five conducting majors; violin was my major. I was concertmaster, and one day Karajan (who was briefly in residence) came in and watched us doing our thing, which included me playing the solos from the Brahms First Symphony. The next day he asked me [putting on a stern German accent], 'Do you conduct?' I had no idea why he would be asking me, but I didn't want to be dishonest so I said, 'Yes I'm studying conducting, actually.' He said, 'Oh, very good. Then you will conduct later.' I nearly had a heart attack because traditionally there's nothing the music students enjoyed more than making the conducting students look bad."
"He turned to the audience and said, 'The concertmaster will now conduct.'"
Principal Conductor Peter Oundjian quoting Herbert von Karajan
"Well, the moment came and everyone was there: Christoph Eschenbach, Seiji Ozawa, the head of Deutsche Grammophon, the head of Columbia Records, the president of Juilliard.
They all thought this was going to be the moment when the great maestro showed us all how it was done. I was the only one who knew what he was planning, and I couldn't believe it. He turned to the audience and said, 'The concertmaster will now conduct.'
"I stood up. He was three feet from me, staring at me and covering up the music! He said, 'Don't look. You know it. You know it,' which was hardly true. So, I conducted and thankfully they played beautifully, as if he were conducting. Afterward, people were joking, saying I was going to give up the violin because Karajan had said how good I was."
Karajan's exercise was no doubt initiated to prove a larger point about conducting, yet it was Karajan who ended up being impressed with the result. "He complimented my hands — 'You have very natural hands,'" Oundjian recalls. "That doesn't leave you. When someone like Karajan says that, you don't forget it. Years later when my hand started to get bad, I looked back on that experience and it had great value for me."
Shortly following the conclusion of his studies, Oundjian was named first violinist for the renowned Tokyo String Quartet in 1981. For 14 years, he toured and recorded extensively with the group until a repetitive stress injury began to affect his left hand.
Beethoven's Ninth
Principal Conductor Peter Oundjian with the Colorado Symphony, Chorus, and Soloists at the May 2022 performance of Beethoven's Ninth Symphony.
Photo by Amanda Tipton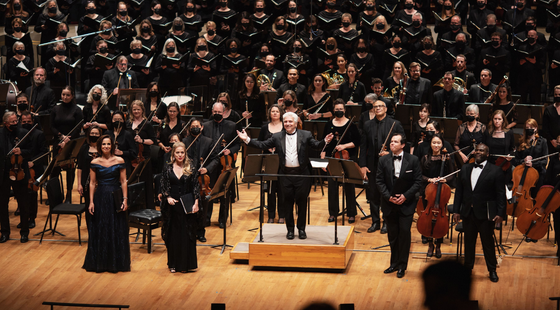 "I started having problems with movement in my hands in the late '80s, but I was in denial. It took a long time to come on severely. By 1993 it was really affecting me." Oundjian eventually discovered he suffered from focal dystonia, a disorder affecting the fine motor skills vital to a professional musician.
"By my late 30's I was not at all happy playing the violin and so I just felt that I was being directed to do this, to take this new path."
Oundjian's path led back to the podium, where he reinvented himself as a conductor, at age 39, gaining acclaim worldwide. But it didn't happen overnight.
"You are unlikely to be a polished conductor in just a few years," he says. However, with a renewed sense of purpose, Oundjian managed to master the new trade. After a string of successful guest appearances worldwide, the Nieuw Sinfonietta in Amsterdam hired him as Artistic Director in 1998. In 2003, he stepped down from that post to become music director of the Toronto Symphony Orchestra in 2004/05, a rare opportunity to conduct in the city where he was born.
It was during that time that he had his first experiences with the Colorado Symphony, joining the orchestra as Principal Guest Conductor, a role he held from 2003-2006. During that period and in the intervening years since, Denver was never far from his mind.
"And this was one of those rare moments that I remember that was so exquisitely beautiful, the sound and feeling and everything."
Principal Conductor Peter Oundjian
"One of my first concerts with the Colorado Symphony, I conducted Beethoven's Sixth Symphony. Very often when you're playing or conducting, you look back after a performance and think perhaps there was something we could have done collectively to make that more magical. We always want it to be better than what we just did. And this was one of those rare moments that I remember that was so exquisitely beautiful, the sound and feeling and everything. The musicianship that was coming out of every single musician and all of them as a unit was very moving. I'm not a crier on stage but I teared up during that performance and I never forgot that."
Since that initial stint with the orchestra, Colorado Symphony audiences have become well acquainted with Oundjian, who has been a frequent collaborator over the last two decades. He's also garnered significant acclaim internationally.
Maestro Takes a Bow
Principal Conductor Peter Oundjian with the Colorado Symphony after a Spring 2022 performance.
Photo by Amanda Tipton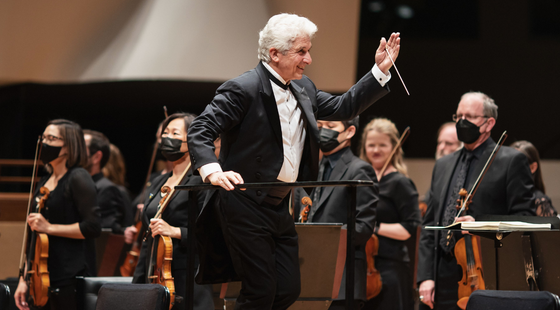 His 14-year tenure as music director at the Toronto Symphony Orchestra ended in 2018. Now carrying the title of Conductor Emeritus, Oundjian's tenure served as a major creative force for the city of Toronto. He also conducts globally and served as music director of the Royal Scottish National Orchestra from 2012 to 2018. In 2019, Oundjian was named Music Director of the Colorado Music Festival and continues in that role today, having already put the Festival on the map of summer classical-music events.
Now, at the helm of the Colorado Symphony as Principal Conductor, Oundjian has big aspirations for the organization.
"I would love to imagine that the world will think of the Colorado Symphony as truly one of the top American orchestras, because I believe that is absolutely justified, but also the programming be considered exemplary. And not just the programs I choose or conduct, but the whole approach to what an orchestra is and what it can do for a community. Denver is absolutely a city of the future, it's growing, and people love to live here and visit. It's a very attractive place to live and work and it's attracting people from all walks of life, so I think there's a tremendous opportunity in front of us."
The decision to reunite with the Colorado Symphony was motivated in part by what he envisions the organization can accomplish, but also by the opportunity to work with a group of musicians he knows to be some of the best in the world.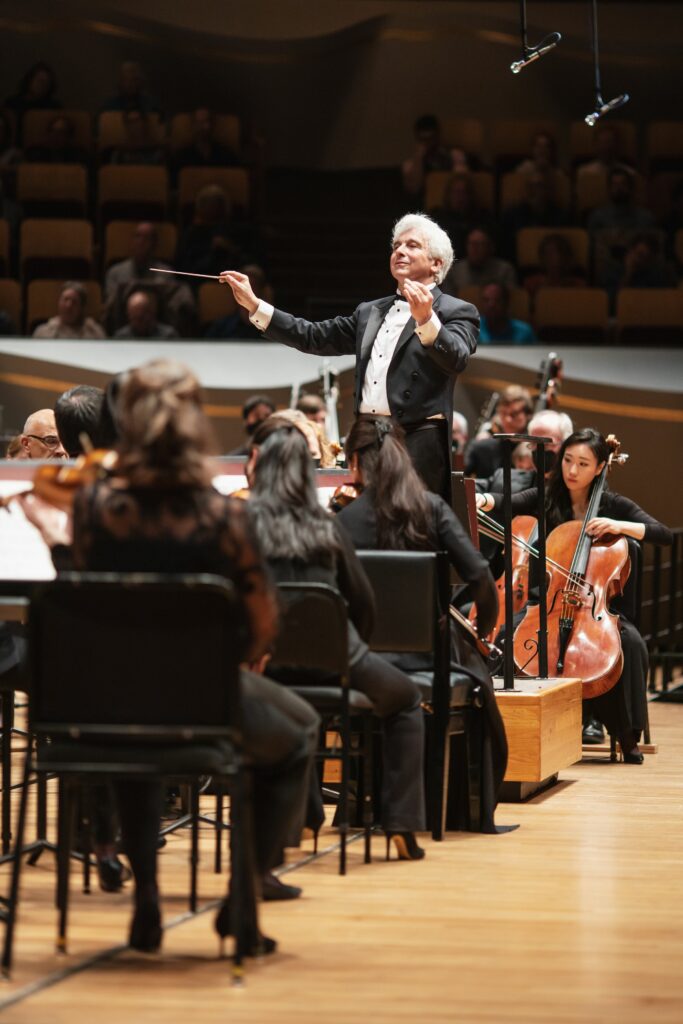 "That is one of the things that I also love about the orchestra — they play their hearts out and they play with exceptional clarity, warmth, and accuracy. I have a particular approach to music making which concerns the concept of vulnerability. To make something really exciting happen, you have to take risks. You can't play it safe. Nobody believes something when it's cautious. And that's one thing I absolutely love about the orchestra is that they can throw caution to the wind without losing the control you need to make a fabulous performance. Very often, one feels the sense of control dominating one's surroundings and that's really never the case with the Colorado Symphony. The aspect of excellence must always be the highest priority, and I believe the orchestra is really extraordinary at bringing out its excellence no matter what music is in front of them."
Oundjian is also keenly aware that the Colorado Symphony has differentiated itself as an orchestra that excels in a number of different musical genres and must continue to innovate and push the envelope in a rapidly changing landscape for symphonic music.
"This is an organization that plays music, that dedicates itself to great performances of music, which absolutely includes classical music. But there is often a sense from communities that their symphony does something very specific and somewhat narrow and only serves a tiny percentage of the community. And all the work that has been done over the last few years at the Colorado Symphony defies that logic. This is an orchestra for our community and there's an awful lot of orchestral music that an awful lot of people love. So there's an awareness and admission that at this point in the 21st century, orchestras have to be relevant for what they really are, which is not just performers of classical music, but absolutely includes the highest level of performance of classical music."
While the road to it was a winding one, the podium has turned out to be an apt showcase for Oundjian's musical acumen and charismatic personality, to the delight of both audiences and musicians alike. With that path now leading him back to Denver, an exciting new era for the Colorado Symphony is set to begin.