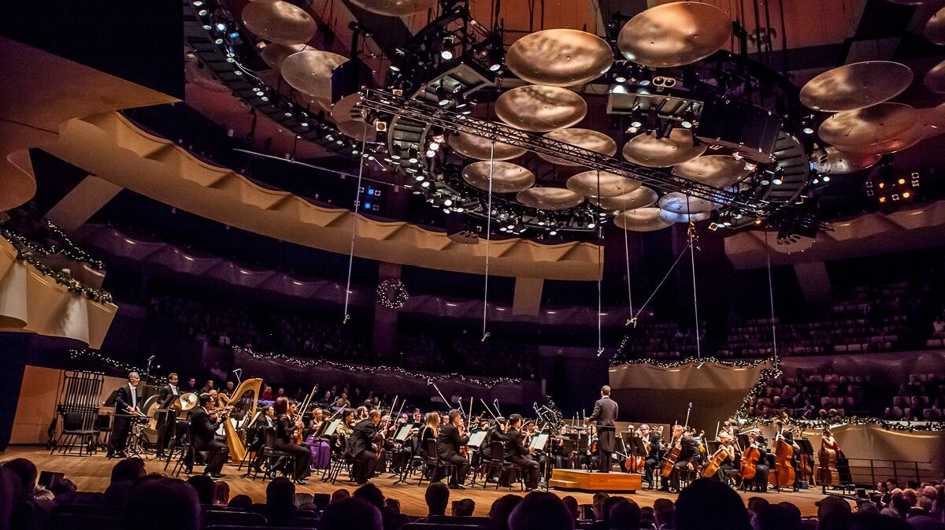 The Ingredients of Great Acoustics
Boettcher Concert Hall was the first 'in the round' symphony hall in the US. Built in 1978 as home for the Denver Symphony Orchestra–now the Colorado Symphony–the hall is part of the Denver Performing Arts Complex (DPAC). Owned and operated by the City of Denver, DPAC is the third largest performing arts complex in the U.S.
The design of Boettcher is based on the European model of a symphonic facility where permanent choral seating is adjacent to the orchestra platform, like the Concertgebouw in Amsterdam, Ushers Hall in Edinburgh, and St. Andrews Hall in Glasgow. The hall is a 360-degree surround concert hall, designed to place the audience as close to the performers as possible, while maintaining traditional symphonic sound quality.
Boettcher seats more than 2,700, in five kinds of seating areas: the dress circle, orchestra seats, mezzanine seats, the parquet section adjoining the stage, and the overhead rings which float over the lower seats. No member of the audience is more than 85 feet from the stage, and 80 percent of the audience is within 65 feet of the stage. The arrangement of the hall creates a more intimate and less formal concert atmosphere.
The stage is equipped for dance performances, with neoprene resilient pads between the stage floor and its steel support structure. It's a superior floor for all types of dance, with the pads serving as equalizing shock absorbers.
The most important element of Boettcher, which can be heard and not seen, is its acoustical quality. There are four key acoustical ingredients that make Boettcher an excellent place for a concert: the acoustical canopy (or cloud), the moat, the facias, and the seats. The canopy and the moat together make the hall itself similar to a musical instrument. The acoustical canopy consists of 106 circular disks suspended from the ceiling. The plexiglass reflectors serve to bounce the sound back to the stage, blend it and direct it out to the audience, who hears both the direct and reflected sound.
The moat lies beneath the stage and is a space approximately one-story high. Low frequency sound is returned to the hall through a series of sound transparent screens and grills. On each curved surface of the hall is a 4-foot-high wave-like band, called the facia, which diffuses, reflects and channels sound throughout the hall. The seating arrangement in the hall, the line of sight and proximity to the stage dictate the level of direct sound an audience member will hear. The custom-designed seats complete the acoustical elements. They are made of steam-bent plywood that actually simulates a person sitting in them, so that the acoustics are excellent, regardless of audience size.
In 1993, the theater underwent a major acoustical renovation. The height of the seat backs were adjusted, additional acoustical reflectors were added, and acoustic curtains were installed, which allow the theater to be tuned for specific performances.