Beethoven. The name itself carries an immense, mystical power; a mononymous title for one of the most innovative, well known, and impactful musicians in human history. Despite living his life over two centuries ago, Ludwig van Beethoven's music remains as relevant and groundbreaking today as it was at its inception.
To commemorate the 250th year since Beethoven's birth, the Colorado Symphony will celebrate his unmatched brilliance with a series of musical performances in Boettcher Concert Hall and across Colorado throughout 2020, bringing the full orchestra and chamber ensembles to underserved communities in the state where access to live symphonic music is often difficult or impossible to realize.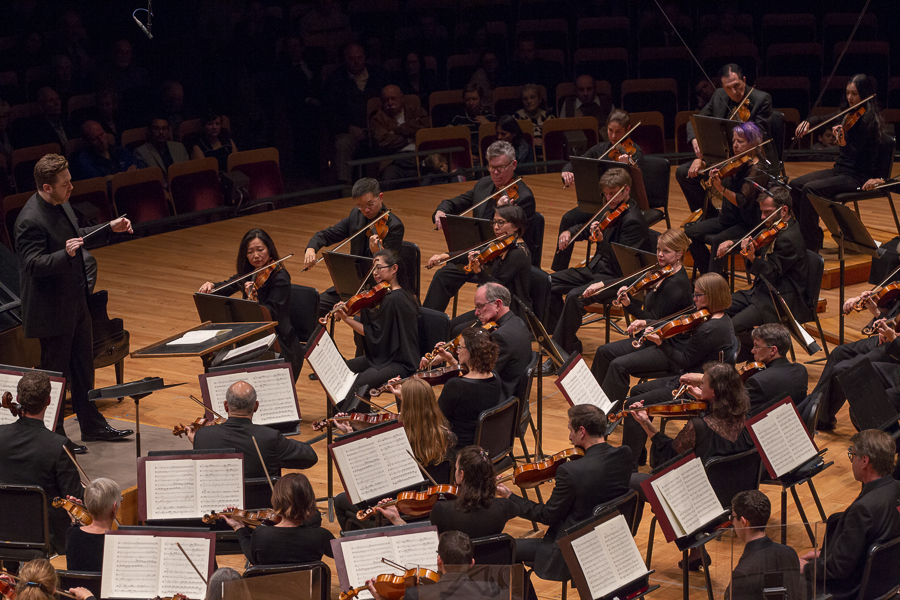 "Our Beethoven 2020 Initiative will ensure access to live symphonic music for all of Colorado as we strive to impact the state in a geographically diverse way," said Anthony Pierce, Chief Artistic Officer for the Colorado Symphony. "In showcasing the entire ensemble as well as smaller ensembles made up of Colorado Symphony musicians in venues throughout the state, this yearlong series promises to be a memory maker for Colorado residents statewide."
The Beethoven 2020 celebration officially kicked off December 16, 2019 with a special, one-night only performance of the Colorado Symphony's annual All Beethoven concert, which featured Beethoven's Overture from Egmont, his "Emperor" Fifth Piano Concerto, and the astounding Fifth Symphony.
The tour portion of this yearlong celebration will take the Colorado Symphony on the road to over 10 different venues throughout the state, beginning January 19 at Red Rocks Park and Amphitheatre. Chamber ensembles led by Colorado Symphony Concertmaster Yumi Hwang-Williams and Assistant Principal Bass Nicholas Recuber will perform as part of Local Set, an intimate, indoor Red Rocks experience at the Visitor Center, featuring local Colorado musicians, themed menus for a full dinner buffet, drinks, and the once-in-a-lifetime opportunity for a backstage tour of the venue.
In February, Recuber will lead a chamber ensemble in a performance at Colorado State University in Fort Collins. And in March, his chamber ensemble will performat the Salida SteamPlant Event Center in Salida and the New Center for the Arts in Crested Butte.
"Even though the vast majority of musicians in the Colorado Symphony are transplants, i.e. we moved here after winning an audition, most symphony players quickly fall in love with the state and find it hard to leave," said Recuber. "The Beethoven 2020 initiative is a great way for us to combine our passion for Classical music and our love of this wonderful state."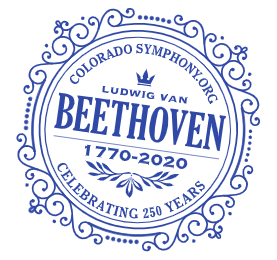 The month of March will also see Hwang-Williams' chamber ensemble traveling for performances in Steamboat Springs.
"Beethoven's enduring message of hope over adversity resounds so clearly and loudly that people will commemorate this towering Genius with celebrations all over the world for his 250th Birthday," said Hwang-Williams. "I'm so thrilled to participate, along with several colleagues, in bringing his chamber music to outlying areas of Colorado for the Beethoven 2020 initiative. We hope to connect with these communities and share our passion for music through the universal language of Beethoven."
And the yearlong celebration only picks up steam from there as the second half of the Colorado Symphony's 2019/20 Season positively overflows with repertoire from Beethoven's illustrious career, showcasing the entire range of his brilliance as a composer. That includes performances of his spiritually expressive Missa Solemnis with the Colorado Symphony Chorus February 21-23, the inventive Fourth Piano Concerto featuring soloist Garrick Ohlsson April 3-5, and his beautifully tranquil Violin Concerto with soloist Simone Porter May 8-10. The 2019/20 Season culminates May 22-24 with Beethoven's groundbreaking Third Symphony, the "Eroica" — a work which represented a true turning point in musical history as it bridged the Classical and Romantic eras.
What's more, thousands of students from throughout the Front Range will participate in 12 Youth Concerts at Boettcher Concert Hall throughout the 2019/20 Season, the focus of which will be Beethoven, his musical influences, and artists who were influenced by Beethoven himself.
Following the conclusion of the 2019/20 Season, the Colorado Symphony will return to Red Rocks Park and Amphitheatre on July 26, 2020. In what will be one of the most awe-inspiring performances in the storied venue's history, the Colorado Symphony will perform Beethoven's monumental Ninth Symphony outdoors under the stars. This once-in-a-lifetime performance will feature nearly 500 musicians on stage as the full orchestra will be accompanied by a massive community chorus made up of the Colorado Symphony Chorus, Anschutz Chorus, and more, along with four vocal soloists for an outdoor musical experience unlike any ever seen in Colorado.
"This Red Rocks performance is going to be truly special," added Pierce. "Our state's most iconic venue has hosted many of the greatest musicians of all time. But it's never seen 500 musicians on stage at one time."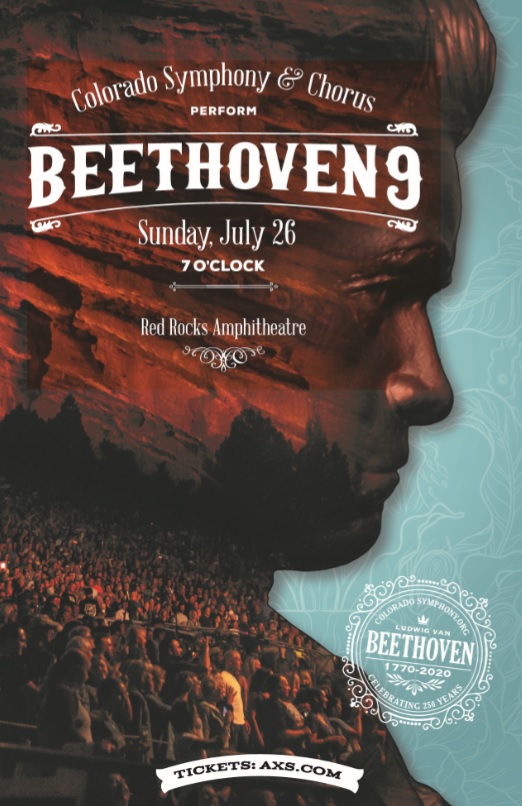 In September, a pair of full ensemble performances will take place with the Colorado Symphony hitting the road for concerts at the Montrose Pavilion and the Avalon Theatre in Grand Junction. And later that month, a mid-sized ensemble will perform at the Fox West Theater in Trinidad. The tour concludes in November when Brook Fergusen, Principal Flute, leads a chamber ensemble in a performance of Beethoven repertoire at the Mancos Opera House.
"As our proud name 'Colorado Symphony' suggests, we are Colorado's only full-time symphony orchestra and have a commitment to reach the entirety of our state," said Ferguson. "We feel fortunate to have the opportunity to share the music of Beethoven with many audiences outside of the Denver metro area and to explore this music in a wide array of venues."
The Colorado Symphony's 2020/21 Season schedule will be released in March 2020 with additional Beethoven repertoire still to come and additional tour dates to be announced as they become available.
When the year concludes, over 100,000 Colorado residents will have experienced Beethoven throughout the state — from Denver to Mancos and Grand Junction to Fort Collins. Indeed, Colorado will have stood at the forefront of a worldwide celebration, commemorating the life and work of a cherished musical icon.
Plaudite, amici, comedia finita est.
For tickets and more information about the Colorado Symphony's Beethoven 2020 initiative, please visit ColoradoSymphony.org. Beethoven 2020 is sponsored in part by the Colorado State Unviersity System.
This article first appeared in the 2020 winter edition of Soundings, the Magazine of the Colorado Symphony.