Music's ability to evoke extraordinarily rich emotions — from happiness to melancholy, and laughter to tears — is at the core of the Colorado Symphony's mission to bring the transformative power of music to audiences throughout the community. So it was with that purpose in mind that musicians from the Colorado Symphony and the Denver Young Artists Orchestra took part in the DaVita Day of Music on September 5.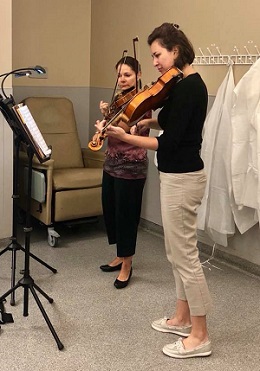 Featuring pop-up concerts at 26 DaVita Dialysis centers throughout Colorado, the event brought 40 musicians and 18 hours of symphonic music to over 500 patients undergoing treatment for kidney disease as well as 200 DaVita employees at the clinics.
Solo and small ensemble groups visited clinics in Denver, Aurora, Boulder, Longmont, Castle Rock, Brighton, Commerce City, Englewood, Greeley, Loveland, Lakewood, Littleton, Parker, Thornton, Arvada, and, with the help of our friends at the Grand Junction Symphony Orchestra, Grand Junction throughout the day, spreading peaceful, soothing symphonic music to the grateful onlookers.
"As musicians in the Colorado Symphony, of course we're always thrilled to bring inspiring music to audiences in Boettcher Concert Hall. But it's just as important for us to remember that music is a powerful, healing force on many levels, and our experiences playing in the DaVita Day of Music reminded us of that."
Jason Shafer, Principal Clarinet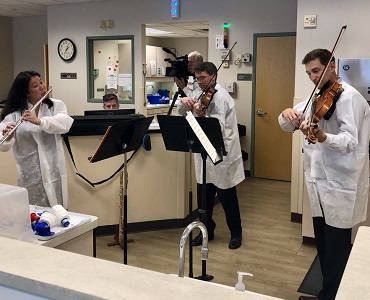 According to a study by UCLA Health, for patients on dialysis, the use of music therapy may positively impact quality of life for those on dialysis. In addition, the research shows that music therapy helps with anxiety and pain management, supports emotional wellbeing and optimization of hemodynamic measures, like blood pressure and heart rate.
Today, there are nearly 660,000 individuals living in the United States that have been diagnosed with end stage renal disease. Of those, approximately 460,000 people are currently on dialysis, a treatment which replaces total kidney function. Dialysis patients typically undergo treatment 3 times per week which last between 3-4 hours each.
The process is often exhausting for patients and many elect to sleep or watch videos during their treatment. But spirits were visibly lifted as the patients listened, enthralled by the live musical performances before them. Many even spent time engaging with the musicians thereafter, sharing stories and voicing their appreciation for the event.
"It was such a beautiful experience to connect with the patients that day, and to see our music brighten their experience in the clinic. We were all inspired by the experience, and are looking forward to similar opportunities in the future."
Jason Shafer, Principal Clarinet
Participating Colorado Symphony musicians included violinists Karen Kinzie, Myroslava Bartels, Anne-Marie Hoffman, Eric Peterson, Alessandra Jennings Flanagan, and Tena White, violists Leah Kovach and Philip Stevens, Assistant Principal Flute Catherine Peterson, Principal Clarinet Jason Shafer, Assistant Principal Bassoon Tristan Rennie and bassoonist Roger Soren, Assistant Principal Bass Nick Recuber, Assistant Principal Oboe Nick Tisherman, and the Colorado Symphony Horn section including Principal Horn Michael Thornton, Associate Principal Kolio Plachkov, Carolyn Kunicki, Matthew Eckenhoff, and Patrick Hodge.