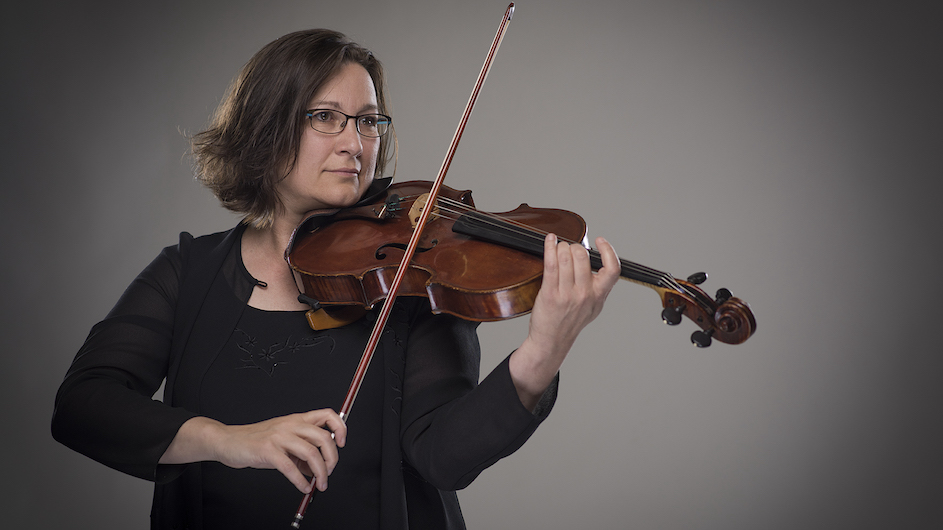 Catherine Beeson
Assistant Principal
Artistic Director of Loon Lake Live and Program Director for Ensemble Faucheux
Creative project manager, program developer, curriculum writer, public speaker, teaching artist, entrepreneur, born and bred Texan, and proud former 4-H participant
Catherine Beeson is Assistant Principal Viola and has been involved in community based project and program management with the Colorado Symphony since 1999. She is the Artistic Director of Loon Lake Live and Program Director for Ensemble Faucheux, curating client focused special programming in diverse locations like Broadway Roxy, the Clyfford Still Museum, The Gathering Place, and Dazzle.
A proud former 4-H participant, Catherine Beeson is originally from Texas, spending much of her formative years taking care of various livestock and trying to stay out of trouble. (Little known true fact, Catherine won a trophy for barrel racing in her local east TX rodeo at age 5.) Fortunately the violin and viola kept her in the practice room and pretty much out of harm's way. Recently she noted the uncanny similarities between the 4-H pledge and Yo Yo Ma's assertion that the conductor's baton is an extension of head, heart, and hand. Ms. Beeson attributes her time in 4-H and the adoption of the pledge from a young age to be essential to the formation of her current belief systems.
Ms. Beeson comes from a family of educators, musicians, and community builders. She is ceaselessly devoted to the latter, connecting people of all walks of life through community and school residency programs that encourage music composition and performance.
Catherine cut her teeth on this work teaching and creating curriculum for the New York Philharmonic School Partnership Program and the Little Orchestra Society. Since moving to Denver Catherine has created innovative community based programming for Friends of Chamber Music, Up Close and Musical, Denver Eclectic Concerts and the Colorado Symphony. Additionally, she has created original marketing content for UCAM, and managed social media, development, and operations for Denver Eclectic Concerts. Catherine has more than 20 years of experience with artistic programming, fundraising, marketing and operations for the Loon Lake Live chamber music series in northern New York, having built and managed that organization from the ground up. Ms. Beeson is deeply interested in the positive application of systems and structures in artistic environments to enhance creativity and innovation. However, she believes the root of sustained success lies in collaborative teamwork and is a firm supporter of the observation that culture eats strategy for breakfast.
Catherine served as Director of Community & Education Programs for the Colorado Symphony from 2014 – 2018, during which time she oversaw the creation of Sensory Friendly programming, an expanded presence in community venues, a 400% increase in the Very Young Composers program, and increased engagement in school day Youth Concerts.
As a performer, Ms. Beeson has worked with Lincoln Center's Mostly Mozart Festival Orchestra, New York City Opera National Company, the Handel-Haydn Society of Austin, the Asian Cultural Council (Tokyo and New York), the Lenape Chamber Ensemble (Philadelphia), Santa Fe Pro Musica, Englewood Arts, Denver Eclectic Concerts, and most recently Ensemble Faucheux. She especially loves collaborating with composers to bring new pieces of music into the world.
Believe it or not Catherine has spare time! She loves playing board games, reading, cooking, hanging out with her insanely cool partner and completely amazing kids, making wacky stuff with found objects, having random adventures, and doing just about anything outdoors. She also makes sure to attend the National Western Stock Show and Rodeo at least twice each January so as not to stray too far from her roots. Special skills include: Occasional violining, Ponticello wizardry, badgering people into playing board games, purposely low grade photoshopping for office pranks, back yard axe throwing when the neighbors' sweet little grandson isn't visiting.
LinkedIn.com/in/catherinebeeson
www.loonlakelive.org
www.ensemblefaucheux.org
www.4-h.org
www.nationalwestern.com