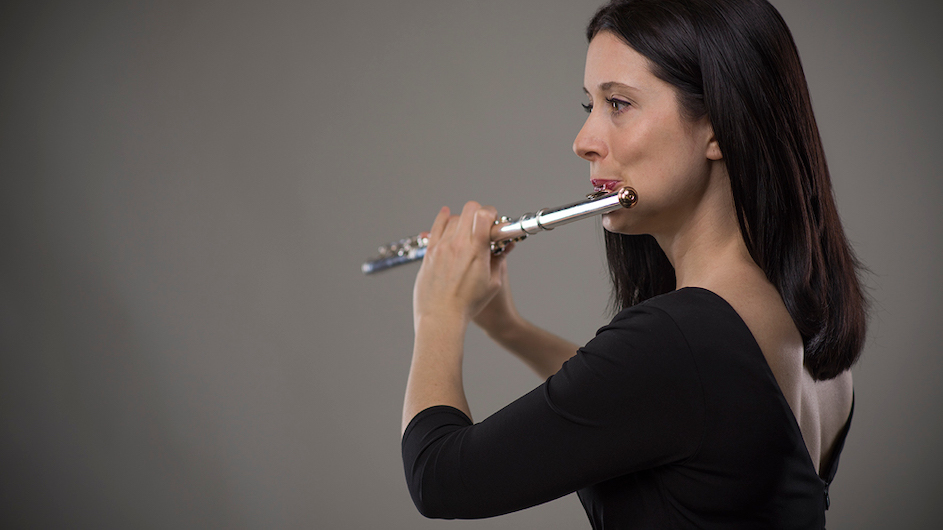 Brook Ferguson
Principal
First prize winner of the 2009 National Flute Association Young Artist Competition
Principal Flutist of the Colorado Symphony Orchestra since 2010
Received her Master of Music from Carnegie Mellon University
Hailed by the Washington Post as "brilliantly virtuosic," flutist Brook Ferguson is a versatile solo and orchestral artist. The Miami Herald praised Ferguson's performance of Carl Nielsen's Concerto for Flute with the New World Symphony as "soaring, fraught with emotion, possessing sterling technique with pure tone, showing herself fully in synch with Nielsen's enigmatic world, putting across the playfulness, passing shadows and sheer strangeness of this music with strong impact." First prize winner of the 2009 National Flute Association Young Artist Competition, Ferguson has performed as a concerto soloist with the Colorado Symphony, ROCO, the New World Symphony and the Los Angeles Chamber Orchestra. She has appeared as a faculty member at the Aspen Music Festival & School. Ferguson attended the Marlboro Music Festival and Tanglewood Music Center—as both an orchestral fellow and New Fromm Player.
In 2022, Ferguson was a featured soloist performing Mozart's Concerto in G major, KV 313 with the Colorado Symphony Orchestra and Maestro Douglas Boyd. In 2019, Ferguson performed as a soloist with ROCO on Saverio Mercadante's Concerto in E minor with Maestro Steven Jarvi. Her performance of Bach's Brandenburg Concerto No. 4 with the Los Angeles Chamber Orchestra was commercially released on Yarlung Records and her live performance of David Amram's Red River Valley Variations is available on the Newport Classic LTD label. As Principal Flutist of ROCO, Ferguson has taken part in over fifty multi-cultural and gender inclusive world premiers by composers from across the globe. The ROCO Listening Room is available to all who wish to hear these works.
Brook was appointed Principal Flutist of the Colorado Symphony Orchestra in 2010 and has been Principal Flutist of the River Oaks Chamber Orchestra since 2012. Previously, she completed a three-year fellowship with the New World Symphony, where she had the privilege of working with Michael Tilson Thomas and many other great musicians and conductors.
She has made Principal appearances with the Singapore Symphony Orchestra, Aspen Chamber Symphony and Festival Orchestra, Grand Teton Festival Orchestra, the Seattle Symphony and the Pittsburgh Symphony Orchestra. Prior to her appointment with the New World Symphony, Ferguson was the Acting Principal Flutist of the Knoxville Symphony and the Principal Flutist of the Delaware Symphony Orchestra.
Ferguson is a William S. Haynes Company Artist. She holds a Master of Music degree from Carnegie Mellon University and a Bachelor of Music and Graduate Performance Diploma from the Peabody Institute of Johns Hopkins University. Her primary instructors were Jeanne Baxtresser, Alberto Almarza, Marina Piccinini and Doriot Anthony Dwyer.