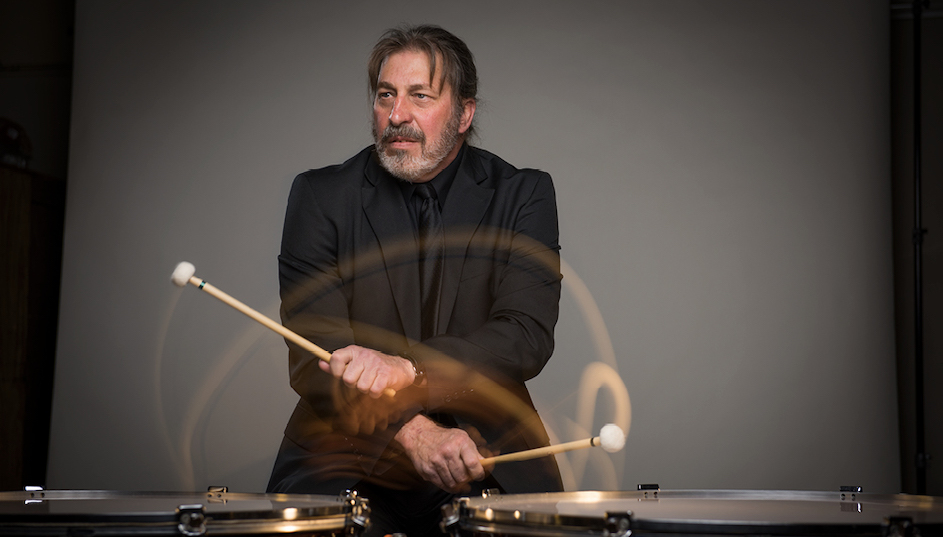 William Hill
Principal
Member of the Colorado Symphony since 1980
Critically acclaimed composer and performer
William Hill has been acclaimed internationally as a composer, soloist, artist, and conductor. Currently he is in his forty second year as Principal Timpanist and Composer with the Colorado Symphony. He also holds the position of Music Director with the Evergreen Chamber Orchestra. Hill retired in June 2020 after a distinguished career teaching composition at The University of Denver. He has served as a composer with the National Music Festival, Moravian Philharmonic, Colorado Symphony, Grand Rapids Symphony, Grand Teton Music Festival, and Evergreen Chamber Orchestra. He has performed as Principal Timpanist with the Honolulu, Omaha, and Colorado Symphonies, the Colorado and Grand Teton Music Festivals, and the St. Paul Chamber Orchestra.
Mr. Hill has performed across the US and in numerous European countries and China. His compositions are performed and recorded by orchestras, chamber, and jazz groups nationally and internationally. Hill's works range from symphonies, to experimental and improvisational pieces, to works combining acoustic instruments with synthesizers and other electronics.
Hill's Three Wings for Orchestra with Soprano (featuring Nadya Hill) opened the 2018 Colorado Symphony Season. The Raven for orchestra, chorus and electronic chorus was premiered by the Colorado Symphony in 2015 and was nominated for the Pulitzer and Grawemeyer Awards. Hill's Symphony #3, was also nominated for the Pulitzer. Passages for Orchestra, Electronics and Soprano, with electronics by Colin Hill was recorded with Hill conducting the Colorado Symphony, and Nadya Hill soprano, in 2022, and will become a video for display at Denver International Airport. Three Tangos and From Silence and Isolation were premiered by the Evergreen Chamber Orchestra in 2021 and 2022.
William Hill's newest works include Symphony #4 in Classical Style, premiered in October of 2022 with the composer conducting the Evergreen Chamber Orchestra, Concerto for Viola, Strings, Harp, and Percussion (for CS Principal Violist Basil Vendryes) which will debut in June of 2023, and Renaissance for Chorus and Orchestra which will premier with the Colorado Symphony and Chorus in May 2023.
The Grand Rapids Symphony opened its 2010 Season with Hill's Aurora Borealis and the first concert of their MusicNow Series featured his Ancient Rituals, The Journey of Ra and Full Moon at Giza with Nadya Hill soprano and violin. Hill's Percussion Concerto was premiered by the Colorado Symphony Orchestra in 2006 with the composer as soloist. The Moravian Philharmonic of the Czech Republic recorded four of his compositions in 2006. Hill's Jazz/Latin/Fusion and World Music groups have released numerous CDs and DVDs.
Hill won the Percussive Arts Society International Composition Contest, and numerous other prizes. He has been a soloist with many orchestras and his first CD Rhythms of Innocence featured him on over 75 percussion instruments, recorders, wood flutes, didjeridoo, and piano. William Hill holds the Bachelor of Music with High Distinction
(1977) and Performer's Certificate from Indiana University, and the Master of Music (4.0 GPA 1980) from the Cleveland Institute of Music.
William Hill is married to violinist Natalie Schmitz Hill and their two children, Nadya, and Colin are both excellent professional musicians. Nadya's husband Michael Hoffman is also a well known tenor and teacher. The Hill's love to enjoy Colorado's wonderful outdoors hiking, skiing and kayaking. An avid mountaineer, Hill has climbed and skied from the summit of more than 60 of Colorado's highest peaks.
Reviews
"It was one of those rare occasions when the ears could bask in almost total enchantment…….if one piece stood just a bit above the rest it was Hill's Seven Abstract Miniatures." the Cleveland Plain Dealer
"Hill's Sonata for Marimba and Strings (with the composer as marimbist extrordinaire) stole the show. His music is unabashedly accessible and undeniably fun. The staid Nova audience whooped and hollered at the eye popping conclusion." the Salt Lake Tribune
"Bill Hill Rocks the Concert Hall with New Percussion Piece" (headline) "Remarkable skills, colorful orchestration, and blazing virtuosity that can't fail to win over his listeners, who responded with a thunderous ovation." Marc Shulgold, Rocky Mountain News
"Hill's pieces are marked by a high level of rhythmic inventiveness, a strong sense of lyricism and a wide range of harmonic languages. Colorful, impressionistic orchestration, sweeping gestures, and the feral sound of James Pellerite's native flutes beautifully evoke the wild openness of the landscapes touched by the northern lights. The Moravian Philharmonic, led by Lawrence Golan, performs with passion and vigor." Stephen Eddins, All Music Guide
"William Hill's Funky Little Crustceans is as charming as the title suggests…..his colorful writing for percussion (and everyone else) comes as no surprise, but he also has some memorable musical ideas. Aurora Borealis is atmospheric and often aptly luminous, and the sound of the Native American flutes is haunting. The Seven Abstract Miniatures are delightful and far more substantial than their title suggests. The composer himself is the superb percussion soloist and the orchestra sounds terrific throughout." David Hurwitz, Classics Today
"A superb timpanist, outstanding percussionist, inspired composer and, above all, a tremendous colleague. Bill's passion for music and making music are palpable." Marin Alsop, internationally known conductor
""The highlight of the night was Colorado composer Bill Hill's tone poem "Aurora Borealis," a 23 minute work that featured the symphony's long time principal flutist Christopher Kantner. Kantner wove a spell with warm, bewitching tones, here commanding attention in rhythmic bursts, there lulling the listener with long soulful sounds of nature. Concert goers reacted with a well-deserved standing ovation." John Phipps, Grand Rapids Press
"This was a very different kind of jazz concert. Every work on the program (composed by William Hill) was extremely sophisticated and reveled in complexities. Chiaraluce, Haverstick, Hanson, Bland, and Nadya and Bill Hill are capable of some of the most difficult improvisations that I have heard in many years. Hill can do with one hand what most other percussionists can do with two. Absolutely amazing, it will bring tears to your eyes." Robin McNeil, Opus Colorado
"I was riveted and delighted by the CSO's performance of William Hill's new Symphony #3, a thrilling and mature work premiered to huge acclaim. It just doesn't get any better than this." Lorenz Rychner, Editor, Recording-The Magazine for the Recording Musician
"William Hill is a major composer, and his Third Symphony will find its place in the history of music as one of the finest symphonies of its time." Robin McNeil, Opus Colorado
"Hill's Meditation and Ritual Dance takes pride of place because of his imaginative orchestration and the contrasting colors and moods that he evokes. Hill's Aurora Borealis invokes a haunting and dark atmosphere which must be a sonic equivalent to the visual spectacle that many have witnessed. His works demonstrate a secure technique, and accessible but original style, and an abundance of substantial and contrasting musical ideas. In Seven Abstract Miniatures Hill has succeeded in effectively setting seven of his own pen and ink drawings, and given that he is the featured solo percussionist in this recording, he is a triple threat. The music is full of the angular energy depicted in his art, clearly delineated by the lines, often driving and virtousic, with Hill as the solo percussionist, and is quite a tour de force." David DeBoor Canfield, Fanfare Magazine
"William Hill's Ancient Rituals is a dynamic work inspired by Colorado's Mesa Verde and the rites of its ancient cliff dwellers. It pushes the musical envelope in a host of ways, moody and languid passages that inspire vivid imagery, and robust percussion driven explosions. All of this makes a highly entertaining presentation-aurally and visually-with a less than stuffy vibe in the concert hall. Indeed the innovative material challenges the players as well as the audience: Many of the veteran, ultra talented musicians clearly found the music provocative, breaking into wide grins or hollering out a hearty Bravo" GRNOW.com John Sinkevics
"The Raven takes 40 minutes to perform and it is the most fleeting 40 minutes imaginable. What is so remarkably convincing – if not startling – is Hill'depth in emphasizing the everchanging thoughts of Poe in describing his loss. His skillful use of the chorus and the orchestra define and bring forth the emotion and range of expression of the text to a remarkable level. Hill's score allows one to understand Poe's poem and he received one of the longest standing ovations in recent memory." Robin McNeil, Opus Colorado.
"The Raven is a remarkable setting of the poem, and a noble challenge for the chorus." Duain Wolfe, Chorus Director, Colorado Symphony and Chicago Symphony
"The Raven is a major and important work. It is the next step beyond Berg's Lulu and Wozzeck". Zoe Erisman, Professor Emeritus University of Colorado