"Symphonic music is unique because you have this incredible experience as an audience member in a concert hall of seeing 80-90 people onstage create something live," said Jason Shafer, Principal Clarinet. "That's something a lot of businesspeople are sometimes surprised by and they'll ask, 'how is it possible that all of these people onstage can perfectly line up that one little note or perfectly do everything together?' And the answer is because we know that there is an incredible strength in this unity of us working together so closely. This amazing energy that's created by such a large group of people working together so intimately and so emotionally."
Just as a symphony orchestra needs all its musicians working in concert to achieve musical harmony, so too does the orchestra require the help of its community to thrive.
For nearly 100 years, the Colorado Symphony has been an iconic paragon within Colorado's performing arts community. As the only resident, full-time, professional orchestra in the state, it has served as a vital linchpin of the cultural performing arts infrastructure of Colorado.
Today, Denver and Colorado continue to flourish, as does the Colorado Symphony, by consistently performing at the level of America's elite orchestras, engaging worldclass musicians including Yo-Yo Ma, Itzhak Perlman, and Renée Fleming, and staying on the cutting edge of popular music by collaborating with artists such as OneRepublic, Weird Al Yankovic, The Flaming Lips, Tenacious D, Sarah McLachlan, Béla Fleck, Ben Folds, and more.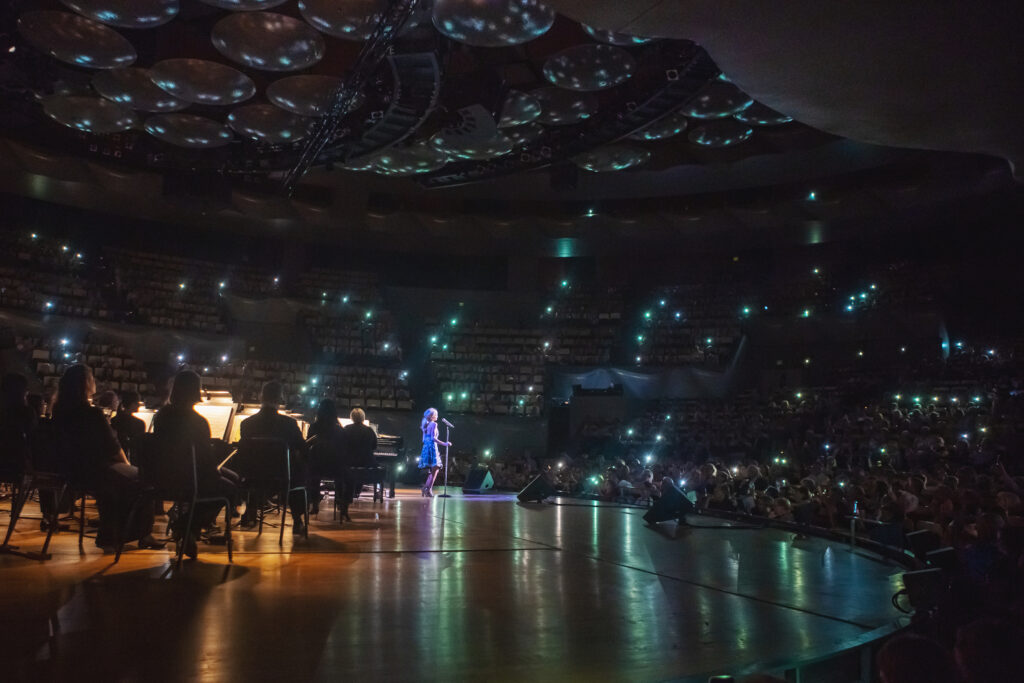 The Colorado Symphony is innovative, enriching the lives of Colorado's residents and inspiring a whole new generation of musicians and music aficionados. 74% of full-time Colorado Symphony musicians currently serve as music educators or teach private lessons throughout the state. An additional 19% of Colorado Symphony musicians previously served as music educators or taught private lessons.
The Symphony's impact is cultural, economic, and civic, extending far beyond Denver into the greater metropolitan area and throughout the state and region, touching the lives of almost 500,000 people each year while generating $30 million in economic impact for the local economy.
Meanwhile, the orchestra has risen to the challenge of transforming itself into a 21st century ensemble, diversifying its programming, educational outreach, and community enrichment activities to meet the needs and challenges of today's society while appealing to a wider and more diverse audience than ever before.
However, as a not-for-profit entity, the Colorado Symphony can only accomplish this community enrichment through the contributions and philanthropy of individual donors and corporations. The price of your ticket covers only half of the overall cost required to present a symphonic concert, making the contributions of donors essential to the survival of the organization.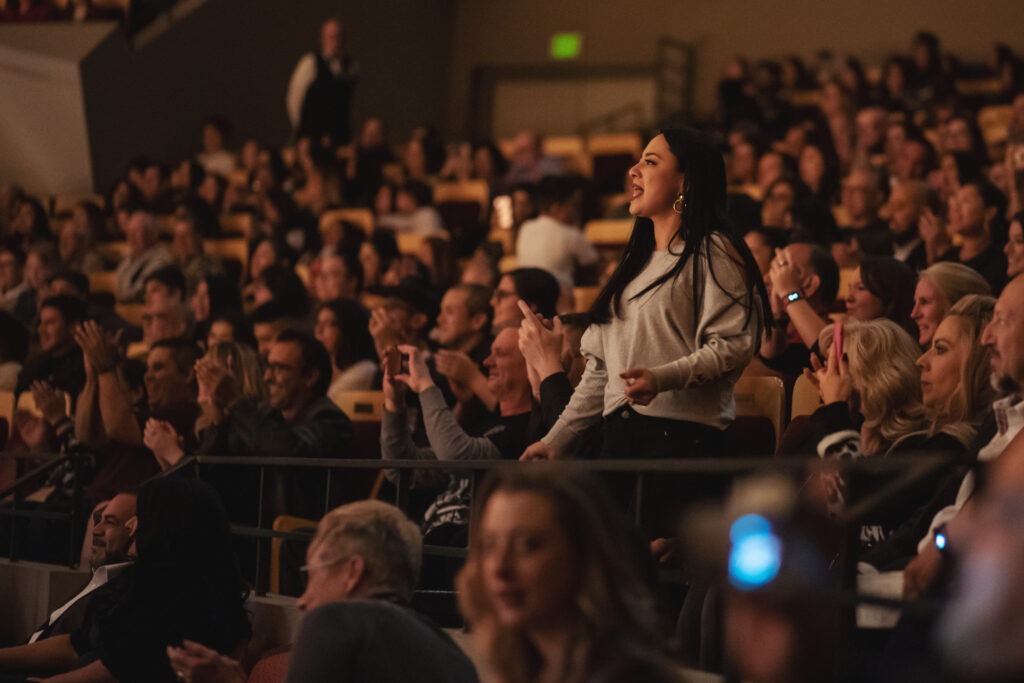 "As a non-profit organization, we do not exist to make money. We exist to serve the community," said Colorado Symphony Concertmaster Yumi Hwang-Williams. "And we serve the community by presenting works that are a testament to human achievement. A Beethoven Symphony does not happen on its own. You have a stage full of incredibly highly trained musicians who can deliver that in a live performance at the highest level. So, what you're supporting is all of it. Ticket sales only cover about 50% of what it costs to run this organization and have these highly-trained musicians in the community. So, we have always relied on the support of people, the community, corporations, and foundations. And we will continue to need that support if we want to continue to provide this level of music to the community."
An analysis of the Colorado Symphony's business model has made it clear that the organization's lack of a significant endowment has been a long-standing impediment to its financial success. It has been apparent for some time that the Symphony's financial infrastructure undermines its long-term stability as it depends primarily on earned revenues, the Scientific and Cultural Facilities District, and annual donations to balance the budget each year.
So, what is an endowment fund? Simply put, it's a permanent source of funding for the future. Endowment assets are invested, and a set percentage of earnings or market growth are distributed annually to the symphony to support operations. Any earnings or growth in excess of this distribution are reinvested in the fund and build its value and impact over time. This allows the endowment to continue to grow and provide support for the Symphony in the future.
An endowment strengthens a symphony in many ways and provides a significant amount of support for the organization's operating budget, which includes salary support for musicians, funding for youth concerts as well as other educational and outreach activities, and financial backing to bring guest artists and conductors to perform with the orchestra. It also helps in keeping ticket prices from rising too high—thus ensuring performances remain affordable for the widest possible audience—while providing a consistent and predictable income source during changing economic times, and ensuring the permanence of one of Colorado's most prestigious and enduring performing arts organizations.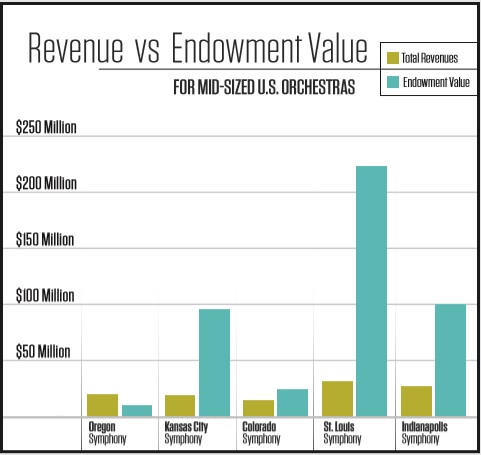 The best-managed mid-sized and large orchestras have endowments equal to at least four times their annual operating budgets which provide a predictable and sustainable source of revenue each year to build on. The Indianapolis Symphony Orchestra, for example, has a $25 million annual budget and a $95 million endowment; the Kansas City Symphony has a $17 million annual operating budget and a $100 million endowment. In comparison, the Colorado Symphony has an annual operating budget of $14 million and a $24 million endowment.
For the Colorado Symphony, ticket revenue currently provides around 50% of the annual budget and the other half is provided by annual donations, support from the Scientific and Cultural Facilities District (SCFD), and distribution from our endowment and designated trusts managed outside the organization. For many orchestras in the United States, the percentage of revenue received from donations skews higher on average than it does for the Colorado Symphony.
With operating costs increasing each year, it's imperative that the Colorado Symphony builds a more substantial endowment that will serve as a reliable source of income year after year.
"As a non-profit organization, endowments are vital to our long-term stability and financial success, creating an important foundation from which to grow," said Jerome H.Kern, CEO and Chair of the Board of Trustees.
In response to the long-term challenge to increase the size and impact of our endowment, the Colorado Symphony and community leaders formed a new organization – The Symphony Fund – as a separate non-profit entity established to invest and manage funds for the benefit of the Colorado Symphony Association.
Contributions made to The Symphony Fund endowment are invested, and a portion of the annual earnings or market growth are distributed to the Symphony on an annual basis in support of the music, educational, and community engagement activities.
In 2015, the Colorado Symphony received a challenge grant commitment of $25 million from the Avenir Foundation, which agreed to match all donations dollar-for-dollar made by June 30, 2020 up to the $25 million threshold.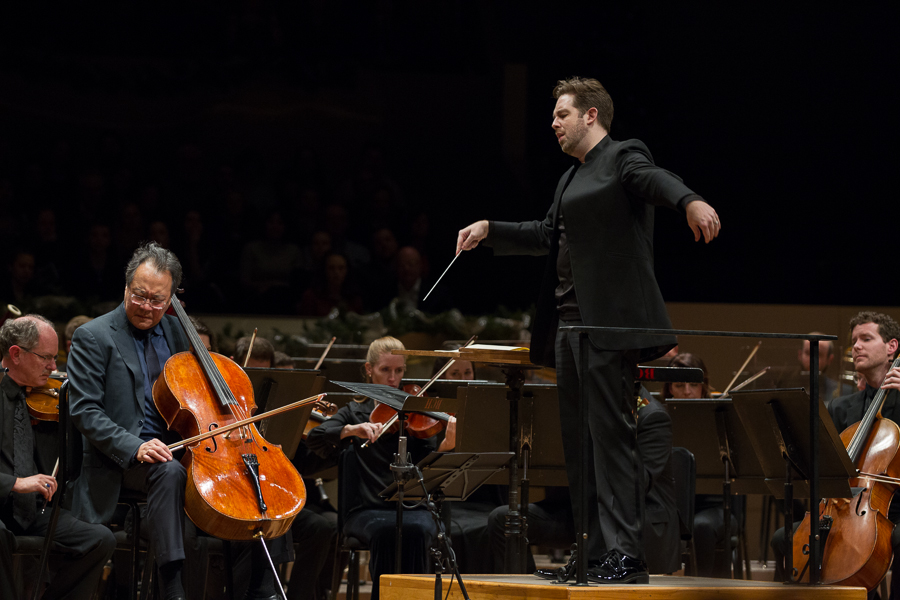 "I've been listening to the Symphony for 57 years now," said William Dodge Wallace, Vice President of the Avenir Foundation. "It's a valuable cultural institution to the city of Denver. It's priceless, really. To lose it would be a real tragedy. We have deep convictions about that."
In 2018, a trio of significant endowment contributions were made as Tom & Noëy Congdon endowed the Chair for the Assistant Principal Flute and Merle Chambers endowed the Chair for the Assistant Concertmaster. In addition, another couple who are longtime patrons and supporters of the Colorado Symphony chose to endow the Principal Cellist Chair anonymously while naming it in honor of Fred and Margaret Hoeppner.
"I have enjoyed the Symphony for decades and when I heard about the opportunity to invest in the endowment and have my donation doubled, I was thrilled to participate," said Merle Chambers.
"The Colorado Symphony has a unique — indeed an extraordinary — opportunity to grow its operating endowment to a level that matches the orchestra's excellence," said Jim Butler, Treasurer and Trustee, Colorado Symphony Board of Trustees. "Taking full advantage of Avenir Foundation's unprecedented generosity would give your Colorado Symphony a $50 million endowment — enough to generate an annual distribution supplying about 15% of the orchestra's operating budget. That 15% is only a little less than what the average symphony orchestra in the US receives in investment/endowment distributions annually."
Several additional opportunities remain, and we need your help. We invite you to consider investing in our future by making a gift to our Endowment Campaign. Every gift received by June 30, 2020 will be matched dollar for dollar through the Avenir challenge grant. For more information or to speak with a Colorado Symphony representative about this exciting opportunity, please contact John Burtness at 303-308-2495 or jburtness@coloradosymphony.org.
Your investment today ensures a bright and prosperous future for live symphonic music in Colorado while preserving this iconic cultural treasure for years to come.
This article first appeared in the 2019 winter edition of Soundings, the Magazine of the Colorado Symphony.