A globally recognized violinist of extraordinary musicianship, incredible technical skill, and captivating tonal beauty, Yumi Hwang-Williams skillfully conveys these traits through enchanting interpretations of the classics and the works of present-day composers.
Her playing style has been lauded as displaying, "disciplined virtuosity, flawless intonation and big, powerful tone" by the Press Democrat in Santa Rosa, CA, and described as going, "beyond merely virtuosic playing to offer something more profound, communicating rare depth and emotional power" by the Denver Post. With a host of accolades to her name, Hwang-Williams adds yet another this year as she celebrates her 20th Season as Concertmaster for the Colorado Symphony, having joined the orchestra in a full time capacity in 2000.
The first steps of her musical journey began with violin studies starting at the age of ten in Philadelphia, PA, one year after emigrating with her family from South Korea.
"My mother loved classical music and wished for me to play the violin, but at that time, lack of opportunities in South Korea prevented me from doing so. It was not until we emigrated to America through family connections that we found ourselves in a neighborhood in Philadelphia with a music magnate school where I was accepted —ironically — based on my abilities as a singer," said Hwang-Williams.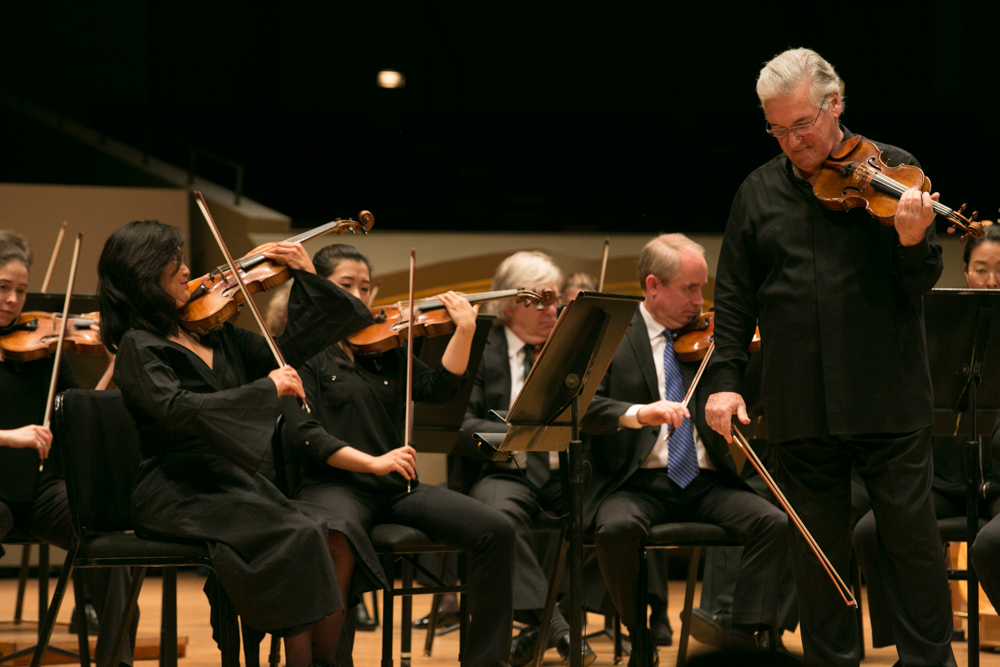 "It just so happened that there was a Korean violin teacher with whom my mother conspired and I began to study the violin with her in fifth grade. I had no choice in the matter," she laughed. "But I loved it immediately and made quick progress with this wonderful teacher who really took me under her wing."
Her skills on the violin progressed rapidly and soon she was accepted to the prestigious Curtis Institute of Music at the age of only 15. That same year, she also made her debut as a soloist with the Philadelphia Orchestra.
"Performing with the Philadelphia Orchestra was such a thrill for me," said Hwang Williams. "I had been at the Eastern Music Festival in North Carolina and had to fly back to Philadelphia for the occasion. My teacher was playing and I knew a couple of other musicians in the orchestra along with William Smith — the longtime Resident Conductor who was on the podium. I felt such support from the orchestra and it was a very positive experience, especially at such a young age."
Her professional career began to accelerate soon after graduation, leading eventually to the Cincinnati Symphony Orchestra where she served as Principal Second Violin. It was there that a professional relationship blossomed that would change the course of her life.
Enter Marin Alsop, the former protégé of the legendary conductor Leonard Bernstein, who was in the midst of an acclaimed 12-year tenure as music director for the Colorado Symphony spanning from 1993-2005.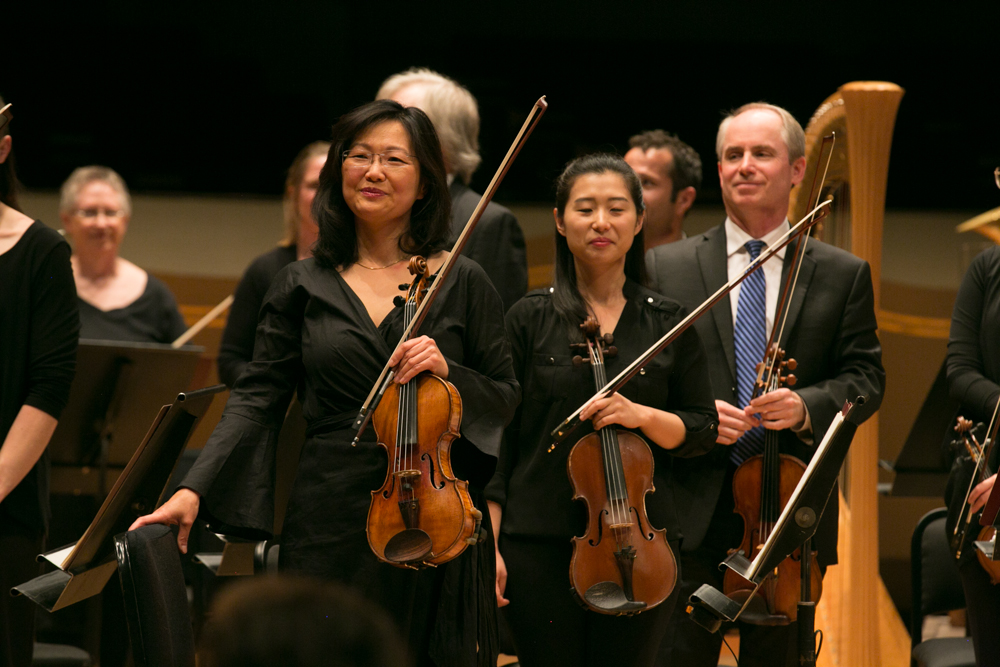 "I often guest conducted with the Cincinnati Symphony around the time that Yumi was appointed Principal Second Violin," said Alsop. "After working with her in Cincinnati, I felt that she could be an excellent fit as concertmaster for the Colorado Symphony. I invited her to come for a week which turned into a one year trial with the orchestra. I guess you could say that I stole Yumi at the perfect time!"
"I was recruited (to Colorado) by Marin Alsop through our friendship and working together with the Cincinnati Symphony," remarked Hwang-Williams. "I came on as guest Concertmaster and after a season in Denver, I fully intended to go back to Cincinnati, but the orchestra asked me if I would stay."
"You could tell Denver was a city on the rise and I felt that hopefully I could make a difference here, that I was needed somehow, and that perhaps I could help in making this orchestra a success," added Hwang-Williams.
Alsop went on to become Music Director for the Baltimore Symphony Orchestra in 2006 but she looks back fondly on her role in bringing Hwang-Williams to Denver.
"I'm thrilled to have been a part of starting her 20-year legacy with the Colorado Symphony," added Alsop. "The orchestra is so fortunate to have her— she's the whole package. A truly gifted violinist and a kind and generous person."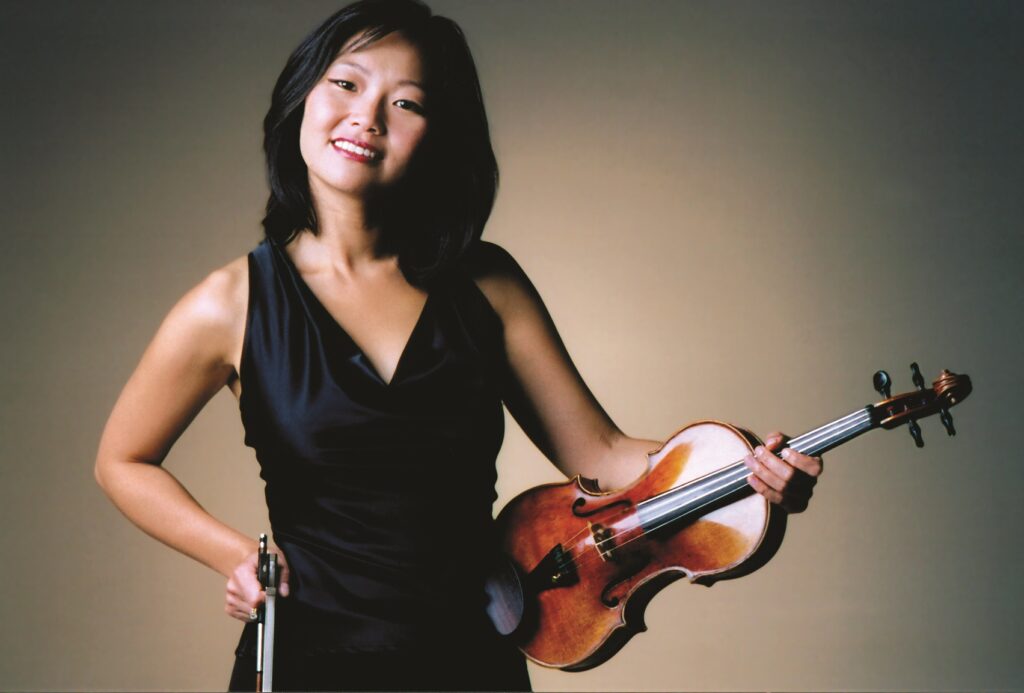 Accepting the role of Concertmaster, Hwang-Williams immediately took on an important leadership position within the organization in addition to her technical work with the orchestra where she plays a large part in setting the tone for the entire concert experience.
"I feel strongly that a concertmaster is a public ambassador for the orchestra and the organization, so whenever I'm performing elsewhere or attending any functions, I strive to represent the Colorado Symphony well," said Hwang-Williams. "In the performance hall, guests will immediately recognize that the Concertmaster's entrance signals the beginning of a concert followed by a ceremonious tuning of the orchestra. The string sections bowings begins many months prior to the concerts with the concertmaster setting bowings in the first violin part. That part gets passed onto the principals of the other string sections to be reviewed and matched so that a uniformed concept is set for our first rehearsal."
And while there previously had been a few female concertmasters in other orchestras around the country, she nonetheless appreciated the opportunity to contribute to that legacy.
"Marin Alsop was certainly a trailblazer, and it felt very natural to be in a progressive musical community that had already embraced a female leader," said Hwang-Williams. "I am so used to the idea that it doesn't seem too extraordinary. But I do feel a sense of pride and honor in being a female, Asian-American Concertmaster trying best to balance career and motherhood. Ultimately that's a real sign of progress when gender in high level positions no longer stands out."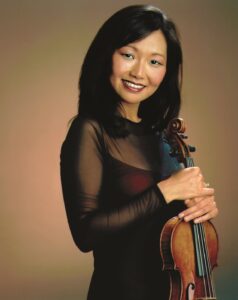 Since becoming concertmaster, the Colorado Symphony has created a host of memorable concert experiences. But a select few stand out above the rest including a pair of unforgettable and poignant performances from 2001.
"The concerts after the September 11, 2001 terrorist attacks with Yo-Yo Ma and then only a few weeks later performing the Britten War Requiem, which had already been scheduled, are forever etched in my mind," recalled Hwang-Williams. "We performed the War Requiem again last season, seventeen years later, and it brought me back to that devastating time when our world changed forever."
Of creating music with her Colorado Symphony colleagues, Yumi marveled that "There is no other endeavor where eighty plus humans are all working toward a single goal in real time — in nano seconds or faster — to create a living organism of live art." And while performing as part of a large ensemble brings a tremendous sense of comradery, she also enjoys the challenge of stepping out of the ensemble as a featured soloist.
"I have been incredibly fortunate to have a solo appearance each season with the Colorado Symphony and every time a musician is front and center, it's a memorable occasion," added Hwang-Williams. "But stepping in on the Sibelius Concerto for an ailing soloist in 2017 with only three days' notice tops the list."
Over the years, Yumi has thrilled audiences in solo appearances with other major orchestras both in the U.S. and abroad, including the Cincinnati Symphony Orchestra, Indianapolis Symphony Orchestra, Sinfonieorchester Basel (Switzerland), and the Bruckner Orchester Linz (Austria) with conductors including Marin Alsop, Dennis Russell Davies, Hans Graf, Brett Mitchell, Paavo Järvi, Peter Oundjian, and Markus Stenz.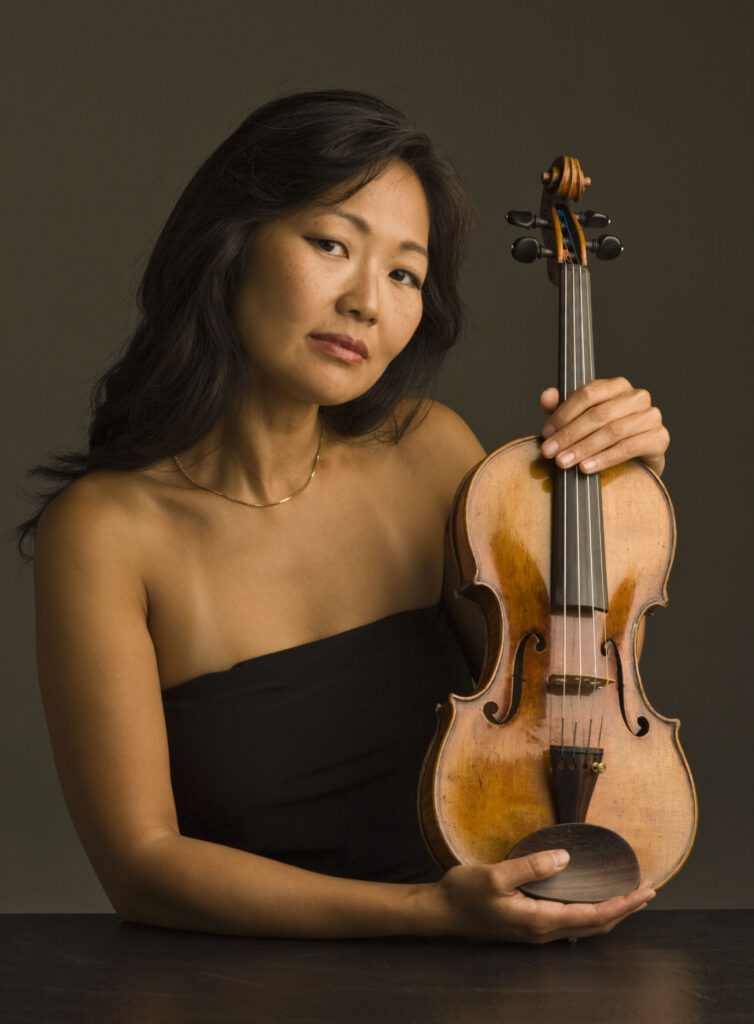 She previously served as Concertmaster of the Cabrillo Festival Orchestra for 13 summers, has performed as Guest Concertmaster for the National Arts Centre Orchestra in Ottawa at the invitation of Music Director Pinchas Zukerman, and has been Guest First Violinist with the Philadelphia Orchestra.
"The best part about being a musician is getting to share your music and you're able to feel the response from the audience. You have this connection and comradery that's almost instantaneous," said Hwang-Williams.
In addition to her playing career, Hwang-Williams has been a passionate advocate for music education and currently teaches as an Adjunct Violin Professor at the University of Denver, Lamont School of Music.
"Teaching inspires me and helps to solidify my beliefs about the fundamentals of violin playing that I have sought and have inherited from my own wonderful teachers," said Hwang Williams. "There are numerous validated studies about how the in-depth study of music for children is critical in developing the brain and how it affects their future successes. But I think even more importantly, it helps to develop humanity and empathy. Music opens the heart to limitless beauty and expressions."
"I believe music should be an integral part of the curriculum and have always enjoyed teaching students by trying to help them to improve and problem solve," added Hwang-Williams. "That is always my goal, whether I'm teaching college graduate students or privately in a coaching setting. I use the same approach with my own playing as so many of the continual challenges we encounter are about problem solving."
Over the course of her tenure with the Colorado Symphony, Hwang-Williams has become a pillar in the Denver arts community, providing breathtaking artistry on stage, world-renowned training in the classroom, and consummate leadership for the organization while earning the respect of her peers and administrators alike.
"One of the most important things in any organization is consistent, reliable leadership, and Yumi has provided the Colorado Symphony with that and so much more over the past two decades," said Brett Mitchell, Music Director. "Her artistry, collegiality, and steadfast advocacy of the Colorado Symphony are invaluable assets to our orchestra, and we're lucky to count her among our ranks. Here's to another 20 years and beyond."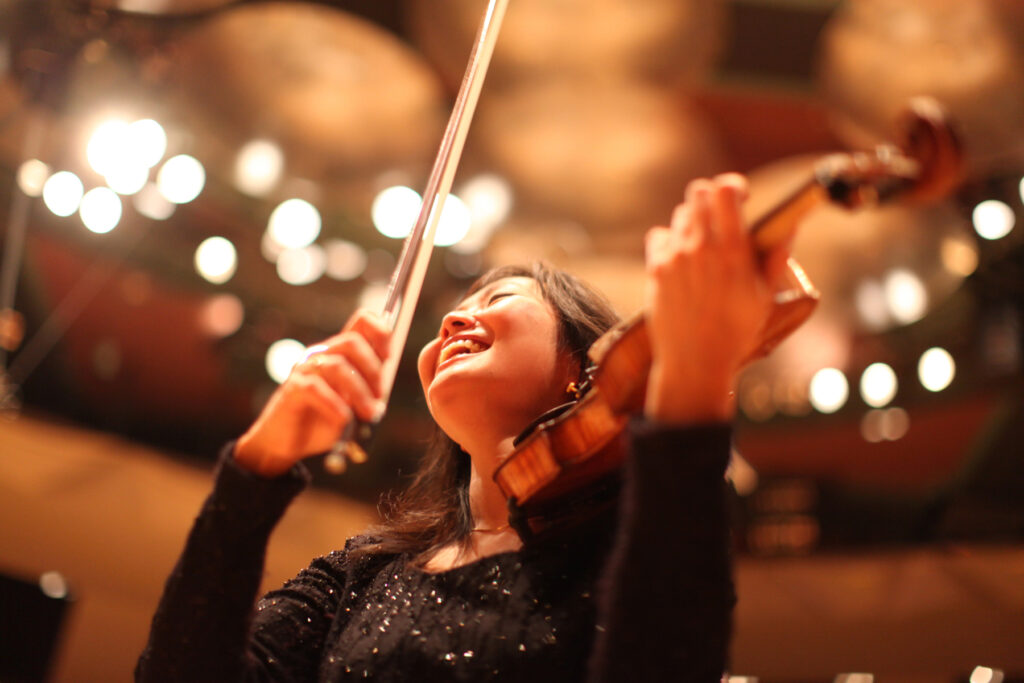 "The Colorado Symphony has provided a home for me," added Hwang-Williams. "It has given me a musical center and community, many life lessons, and numerous challenges beyond what I could have imagined from my conservatory training. When the Symphony asked me to stay after my guest year, it was not an easy decision, but like so many, I had fallen in love with the majestic, rugged beauty of Colorado. The prospect of making beautiful music in such a place where I hoped I could make a difference made the choice for me. And it turned out to be one of the best decisions of my life."
Hwang-Williams will open the Colorado Symphony's 2019/20 Classics calendar as featured soloist on Mendelssohn's Violin Concerto at Boettcher Concert Hall September 20-22. Click here to learn more.
This article first appeared in the 2019 fall edition of Soundings, the Magazine of the Colorado Symphony.