A globally recognized violinist of extraordinary musicianship, incredible technical skill, and captivating tonal beauty, Yumi Hwang-Williams has skillfully conveyed these traits through enchanting interpretations of the classics and the works of present-day composers for 24 seasons as the Colorado Symphony's Concertmaster.
Her playing style has been lauded as displaying, "disciplined virtuosity, flawless intonation and big, powerful tone" by the Press Democrat in Santa Rosa, CA, and described as going, "beyond merely virtuosic playing to offer something more profound, communicating rare depth and emotional power" by The Denver Post. With a host of accolades to her name, Hwang-Williams adds yet another this year, performing as featured soloist on Mozart's Third Violin Concerto from December 1-3 at Boettcher Concert Hall.
"There is no other endeavor where eighty plus humans are all working toward a single goal in real time — in nano seconds or faster — to create a living organism of live art," Yumi marveled of creating music with her Colorado Symphony colleagues.
And while performing as part of a large ensemble brings a tremendous sense of comradery, she also enjoys the challenge of stepping out of the ensemble as a featured soloist.
"I have been incredibly fortunate to have a solo appearance each season with the Colorado Symphony and every time a musician is front and center, it's a memorable occasion," she added.
We chatted with Hwang-Williams about performing Mozart, working with Rune Bergmann, and what audiences should look forward to from this trio of performances.
Q & A with Yumi Hwang-Williams
What do you find most captivating about this particular piece? Are there unique challenges or opportunities in performing Mozart's works, and how do you approach his music as a violinist?
Yumi Hwang-Williams: I have loved this concerto from the earliest part of my studies. It's an iconic work in the violin repertoire, instantly recognizable. It is a joyful, vivacious, playful, romantic, work that reflects the pure genius and soul of a master at age nineteen. Playing any Mozart concerti poses special challenges to be expressive with taste, refinement, and delivery with ease. Every note has to sing with bell tones, with judicious use of vibrato, and a lighter use of the bow to achieve a historically inspired approach yet with projection in a big hall such as Boettcher. Every phrase is questioned and agonized over. There's a famous quote by the great pianist, Arthur Schnabel, 'Mozart is too easy for children and too hard for artists.' So true!
Mozart's music often requires a delicate balance of technical precision and emotional expression. How do you work on achieving this balance in your interpretation of the concerto?
YHW: Because Mozart loved the opera so much and had already composed many by this point, the drama and lyricism has to come through with the technical flourishes being still 'sung". All this has to be in partnership with the orchestra as the solo violin is just the leading voice in the big picture. We have a much smaller string section to help achieve the balance to have the solo line come through without forcing the sound production.
What do you believe the audience should listen for in your performance to truly appreciate the nuances and beauty of this concerto?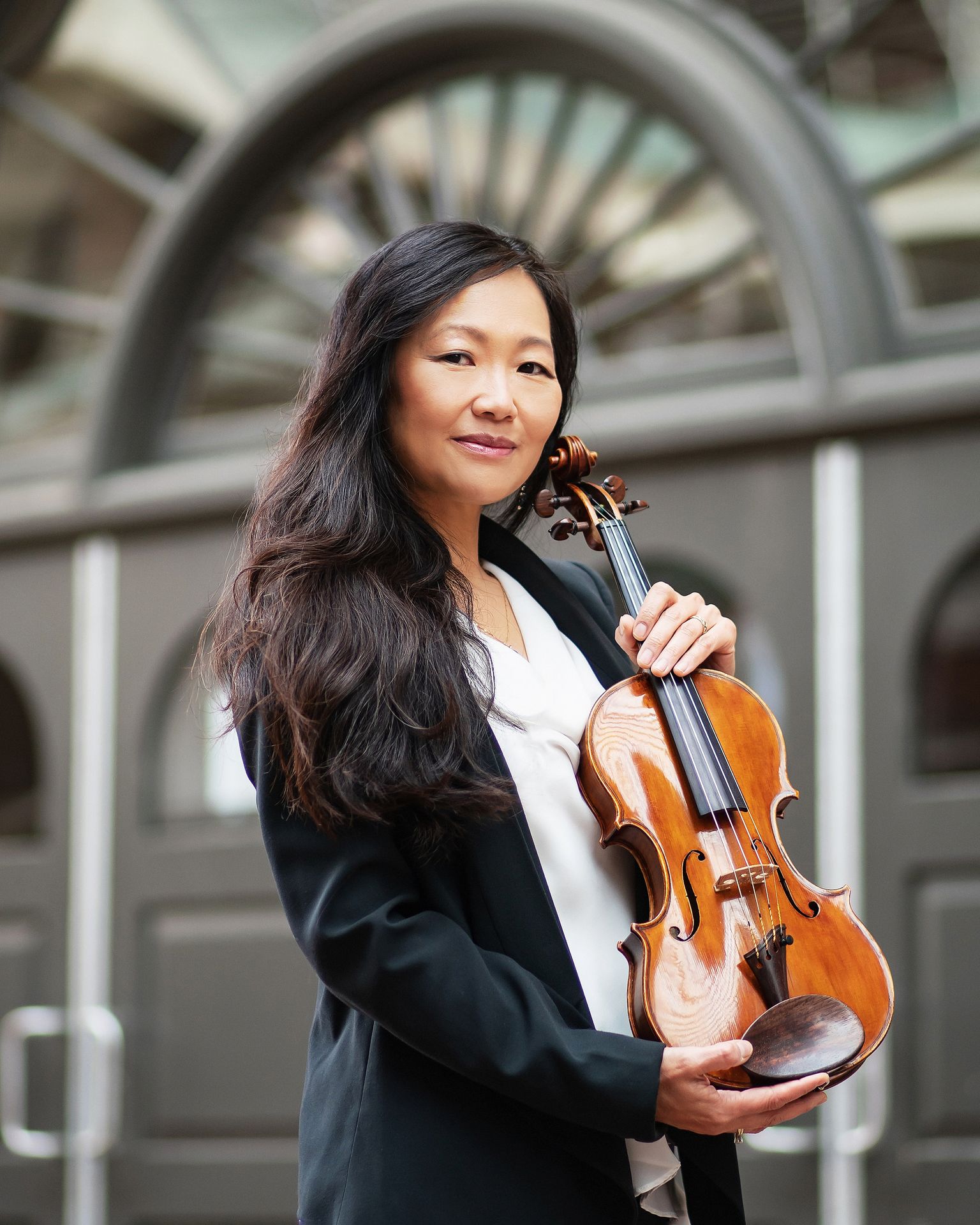 YHW: I think the audience simply have to come with open ears and hearts. For fun, perhaps even imagine what it might have been like in an 18th century court in Salzburg. Listen for the dialogue between the solo violin and orchestra and take note that while many familiar themes repeat, they are always peppered with something new. The first movement is elegant and spirited. The second is very beautiful and heart-felt. It has a typical serenade feel of a romance with the melodious solo violin accompanied by rolling rhythmic pulse in the strings. Mozart adds two flutes only in this movement while the two oboes rest and play in the first and third movements. Two horns provide their gorgeous sounds throughout. The delightful third movement titled Rondo where the themes repeat many times is always peppered with new elements.
Conductor Rune Bergmann makes his return to Denver for this performance. What did you appreciate about him when he made his Colorado Symphony debut here in 2022 and what are you looking forward to this time around?
YHW: I loved working with Rune when he joyfully and generously led us through the very challenging Fourth Symphony by Neilsen back in 2022. He calls himself a 'Happy Viking'! He is very tall and doesn't use a podium, but I may need one to be standing next to him," she laughs. "Though a concerto signals a showcase for the solo part, the music in totality needs a cohesive interpretation and dialogue. His enthusiasm and happy disposition will be such a natural fit for Mozart and I anticipate a really fun collaboration with him and my colleagues.
Finally, could you describe the emotional journey you hope to take the audience on during your performance? 
YHW: It's an immense privilege and honor to share music with our audience. It's a shared experience in real time and a relief from the daily stresses of life. I would ask our audience to listen with open ears and hearts and follow along in the storytelling and perhaps even allow for some daydreaming. This is really a collaboration amongst the musicians, audience, and the actual music being made in real time, in that moment.
Yumi Hwang-Williams Performs Mozart
Don't miss Yumi Hwang-Williams as featured soloist on Mozart's Third Violin Concerto, alongside Mahler's First Symphony and Sibelius' Swan of Tuonela at Boettcher Concert Hall from December 1-3, 2023.  
Get Tickets