When you support the Colorado Symphony, you help bring incredible live symphonic music to nearly 250,000 people throughout Denver and the Front Range each year. Your Colorado Symphony has been a Denver institution for nearly a century, but our mission extends far beyond the walls of Boettcher Concert Hall. As part of that mission, we are deeply committed to furthering music education statewide, providing increased access to live symphonic music for a growing and more diverse audience than ever before. 
As the Colorado Symphony Association (CSA) prepared for their 2021/22 concert season, the realities and limitations brought about by the COVID-19 pandemic continued to persist and the orchestra's fall 2021 youth concerts were postponed until the spring. Undeterred, the CSA Education Department set to work updating their digital curriculum which included streaming opportunities for teachers and schools to use until it became feasible for schools to return to Boettcher Concert Hall for in-person youth concerts.
Support your Colorado Symphony today!
In light of the youth concert postponements, the Colorado Symphony made the unprecedented decision to provide free access to its virtual educational concerts and curriculum for all schools in Colorado for the entire 2021/22 Season. The free access to virtual concerts included the Lift Every Voice Youth Concert, Sensory Friendly Concert, Petite Musique: The Three Little Pigs Concert, and The Story of Paul Bunyan. Free access also includes concert specific educational curriculum, digital story and activity books for students.
"In our commitment to make symphonic music accessible to all, we are delighted to offer teachers, students, and families across Colorado access to our inspiring educational virtual concerts," said Jesse Martinez, Director of Community Education. "We believe in the power of music to uplift our communities and hope that through this offering we can bring the transformative power of music to classrooms and homes throughout the state."
"We believe in the power of music to uplift our communities…"
Jesse Martinez, Director of Community Education
The necessity to create virtual content during the COVID-19 pandemic presented new opportunities to reach communities throughout Colorado who, due to their distance from Denver, are often unable to hear the Colorado Symphony in person with any regularity. Support from foundations and patrons alike made it possible for the Colorado Symphony to produce the high quality, virtual content being enjoyed by students across Colorado this season.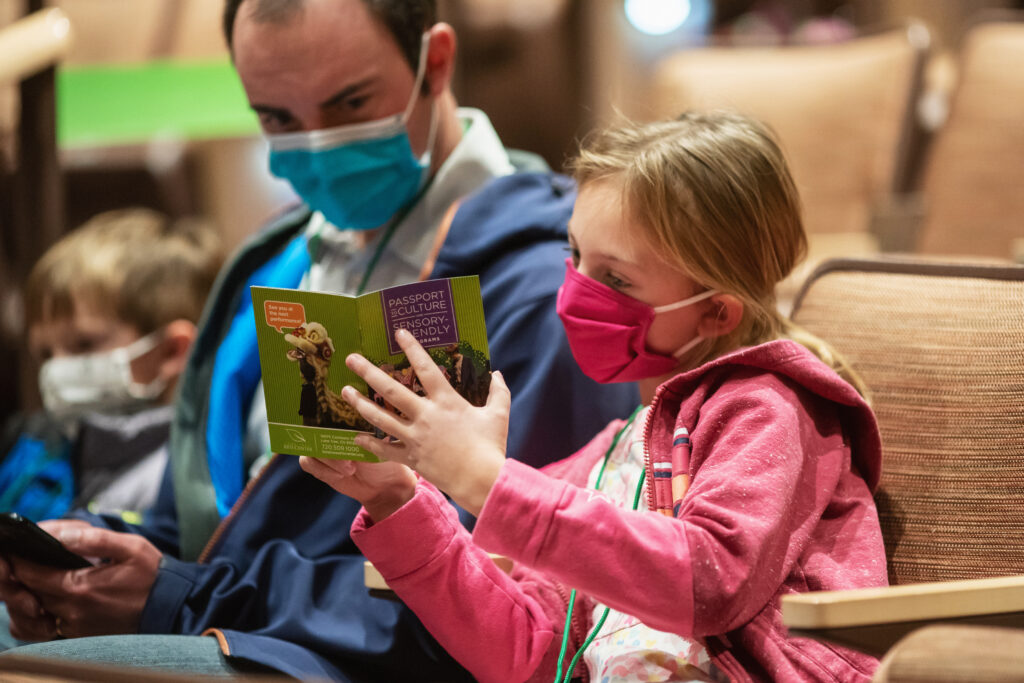 The CSA recently received a Road to Reading Grant from the City and County of Denver which will allow the organization to give free access to its Petite Musique: Three Little Pigs bilingual concert and distribute up to 20,000 storybooks to early childhood students across Denver! Petite Musique is an interactive concert program designed to introduce very young children to the instruments of the orchestra through a musical telling of a children's story. This year's virtual program features a 16-piece orchestra, delightful illustrations, and a bilingual narrator who will incorporate storytelling, singing, and dance in both English and Spanish. 
Our free virtual education package has already reached nearly 16,000 students across Colorado, with 4,000 additional participants signed up for the Spring 2022 in-person programs. With an eye towards providing increased access next season and beyond, the orchestra will be recording the newly commissioned Canta y Baila Conmigo concert experience, an extension of the bilingual early childhood education program, on November 9, with plans to release it as part of a free virtual package for the orchestra's 2022/23 season. With the help of donors like you, the Colorado Symphony hopes to continue offering free virtual packages for years to come, bringing the power of music education to every corner of the state.
Through education and outreach, the Colorado Symphony continues to inspire the next generation of musicians throughout Colorado. With the help of donors like you, the promise of this mission will continue to be a reality into the future and for generations to come. 
Interested in supporting the Colorado Symphony's Community Education initiatives, please click here.