In a world where music weaves its way into the very fabric of life, there are people who make it their mission to bring symphonic music to the hearts of their community. Wilbur Lin, the new Assistant Conductor of the Colorado Symphony, is a maestro in the making, and his journey is one that resonates with the melody of determination, passion, and a deep love for music.
That journey began at home, where the sounds of music were a constant presence for a family united by a common love for music. His father's role as a church choir conductor and his mother's prowess on the piano set the stage for a firm musical foundation. Lin's siblings added their own melodies, playing various instruments and lending their voices to the family's harmonious ensemble. It was in this musical crucible that Wilbur took his first steps as a budding musician.
"I firmly believe that 'listening' is an art that is losing its importance in today's society. We are eager to respond, eager to engage, and we make ourselves restless. This reduces our capability to sit back, stop, think, analyze, and form deeper thoughts."
"Music was always part of my life growing up. I don't have any relatives who were professional musicians, but my family was very musical," Lin explains with a warm smile. "I started on the piano when I was five years old but always had this love-hate relationship with it. Gradually I found my love for and voice in the piano during my high school years."
High school marked a turning point for Lin, as he not only discovered his passion for the piano but also fell head over heels for the grandeur of orchestral music. The orchestra's captivating presence spoke to him in ways the piano alone couldn't. Realizing the limitations of the piano for orchestra participation, Lin found a new avenue to express his musical aspirations: conducting.
"In high school, I came to find that pianists have limited opportunities to be part of the orchestra outside of a featured soloist role. But I quickly realized that I could be a key part of an orchestra by conducting," he added. His journey into the orchestral world began with a modest yet ambitious step: organizing his first orchestral concert during his freshman year of college.
His college experience was a springboard and since then, Lin's career has taken him to symphony halls and opera theaters across the United States, Europe, Latin America, and Taiwan. Before joining the Colorado Symphony, he served as pianist for the Indianapolis Opera (2018) and Assistant Conductor with the Cincinnati Symphony Orchestra (2019- 2022). He also made guest conducting debuts with the Taipei Symphony, Cincinnati Opera, Ann Arbor Symphony, and Rochester Philharmonic.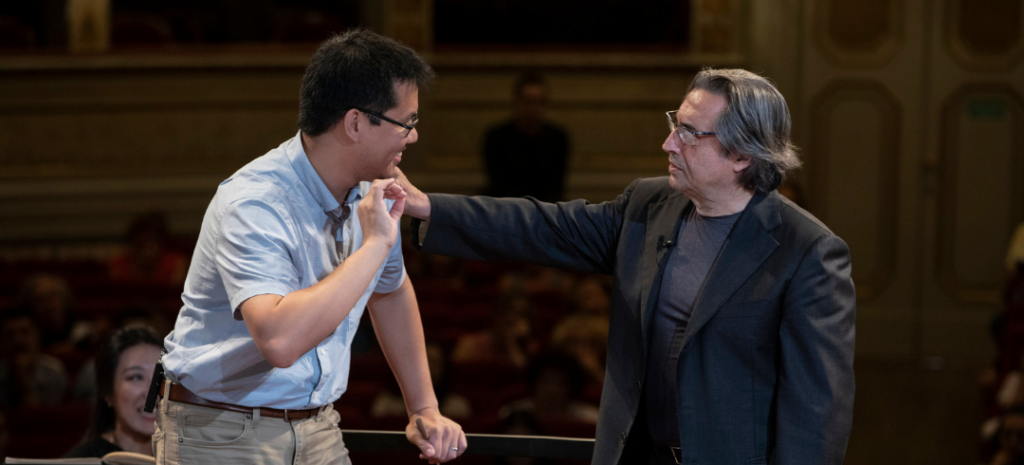 However, Lin's musical odyssey took a significant turn when he had the opportunity to participate in Riccardo Muti's Italian Opera Academy in Ravenna, Italy. Muti, one of the leading conductors in the world and the longtime music director of the Chicago Symphony Orchestra, had a profound impact on Lin's career.
Recalling the life-changing experience, Lin's eyes light up with excitement. "Taking part in Riccardo Muti's Italian Opera Academy and conducting Macbeth in the historical Alighieri Theatre, was a life-changing experience," he shares with a touch of reverence.
For any conductor, the chance to work in Italy, the cradle of opera, is akin to stepping onto hallowed ground. "It was the first time I got to work at a very high level with great musicians who respected the traditions of opera, and its style yet were still open-minded and willing to work with me," Lin reflects.
Back stateside, Lin concluded his tenure with the Cincinnati Symphony Orchestra in 2022 and was appointed Music Director of the Missouri Symphony. But when the chance to come to Denver presented itself, he knew it was an opportunity he had to pursue.
"During my audition with the Colorado Symphony, I discovered an orchestra with such flexibility and character that it allowed me to effortlessly establish a connection with the musicians."
Following a comprehensive international search and audition process, the Colorado Symphony and Denver Young Artists Orchestra (DYAO) hired Lin to their respective artistic staffs for the 2023/24 season. Lin serves as Assistant Conductor for the Colorado Symphony, leading many of the orchestra's Family-Friendly and Community Education programs as well as special concerts like the orchestra's October collaboration with Stewart Copeland from The Police. He also serves as Music Director for DYAO. "It is the best of both worlds," he shares with pride. "I get to work at a high level with the symphony and the very talented young musicians of the DYAO."
For Lin, the joy of working with students is in their fresh perspective. That is especially true during the symphony's numerous Youth Concerts throughout the season. Each year, more than 20,000 students in grades 3-12 visit Boettcher Concert Hall to engage with the Colorado Symphony. For many of those students, it is their first opportunity to see a live orchestral performance, and Lin understands the importance of good first impressions.
"The best part of working with students and young musicians is that they are often learning or hearing the pieces for the first time," he explains. "Being able to share this music with people experiencing it live for the first time is an amazing feeling. The excitement level is just different when it's the first go at a big piece."
Lin's appointment strengthens the already robust strategic alliance between the Colorado Symphony and DYAO which began in 2018, furthering the Colorado Symphony's dedication to music education while providing resources and access for DYAO musicians to the professional musicians of the Colorado Symphony. Lin sees music education and outreach as vital to the lives of young people and hopes to inspire the next generation by showing how music binds the world together.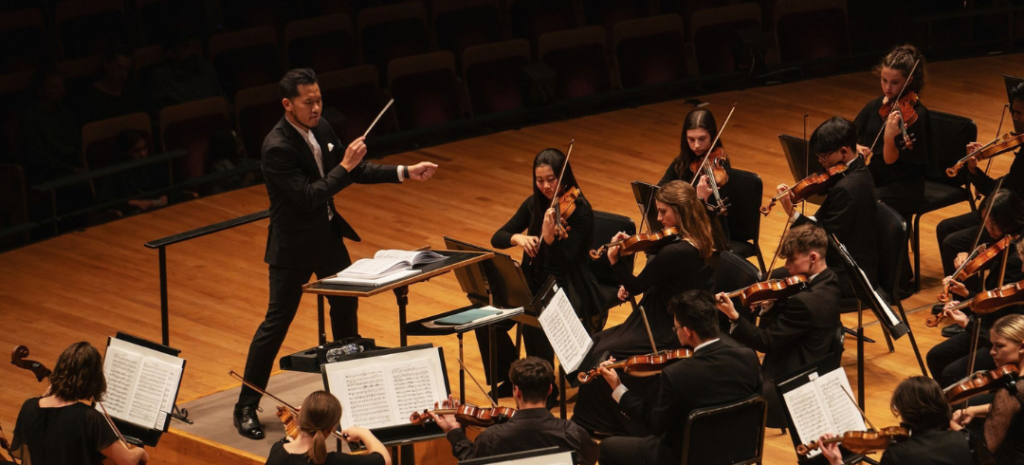 "When programming music, for DYAO or any ensemble, I try to convey the connection between music and real life. Emotions can be communicated through music and it's a language that speaks to all of us. In many ways, music can communicate what words cannot. But I also try to help people to really listen, not just to listen for pleasure but listen with intent. The ability to listen, analyze, and delay one's response is a skill that I believe many people, including myself, are losing. As musicians, I believe our goal should be to build a community that knows how to listen. This guides what I do with my educational efforts, whether through performing on stage or working with young musicians directly."
DYAO continues to transform young musicians by giving them the inspiration, support, and skills to launch a variety of careers, nurturing future professionals and growing the orchestral audiences of the future. Their connection with the Colorado Symphony has been enhanced over the years through annual side-by-side concerts. In addition, DYAO alumni can be found throughout the Colorado Symphony including current CSA musicians Larisa Fesmire, Marsha Holmes, Paul Naslund, and John Hilton.
"DYAO is thrilled to have found in Wilbur an energetic vision for community engagement, music education, and audience development," said Kelly Waltrip, Executive Director for DYAO. "This joint position reflects the two organization's shared mission to build and reimagine the future of live symphonic music and continue their commitments to music education."
When it comes to conducting, Lin maintains a consistent approach, whether he's working with seasoned professionals or nurturing young talents. "To me, there's no difference in my approach," he asserts.
"I try to find ways to make music happen in an organic and empathetic way."
However, his work with DYAO provides him with an extended canvas to nurture and educate budding musicians. "With DYAO, I do get more time to explore, to explain, and to really be part of the growth of the musicians," Lin notes. "But the end goal, the approach, and the philosophy are all the same."
In the ever-evolving landscape of classical music, Wilbur Lin stands as a conductor with a keen sense of the art form's profound significance. Classical music, he believes, serves as a timeless bridge that connects people, transcending cultural boundaries, and resonating with universal emotions.
"Classical music is an art form that brings people together," Lin says with a gleam in his eye. "The emotions conveyed through this shared common language allow us to see that, while we come from diverse cultural backgrounds, we share the same human emotions, thoughts, struggles, and hopes."
Indeed, the role of classical music in modern society has been in a state of constant flux. As societal values shift, so does the role of classical music, and Lin understands the importance of adapting while preserving the essence of this art form.
"Music will continue to change as what we value as a society changes. The most important thing is how we continue to reflect the values we care about, the stories we want to tell, and the ideas we want to share."
In his role as a conductor, Lin actively contributes to this evolution and hopes to be a part of concerts that find innovative ways to bring new audiences into the hall. By bridging the gap between tradition and innovation, he hopes that classical music remains relevant and accessible to all.
"A piece by Beethoven might be understood as a cry for freedom," Lin muses. "A contemporary piece commissioned today might be about equality or social justice. A future concert might be about something we have yet to realize we care about. We will keep classical music relevant by being genuine and true to ourselves as concert programmers."
In the hands of Wilbur Lin and conductors like him, classical music continues to be a dynamic, ever-evolving force that speaks to the human experience. It serves as a testament to the enduring power of music to transcend time, culture, and societal shifts.
Now in his role's with the Colorado Symphony and the Denver Young Artists Orchestra, Lin remains dedicated to the art form he loves while helping to chart a dynamic future for orchestral music in Denver. He understands that, as the world changes, so too must the melodies and narratives that classical music offers, ensuring that it remains a vital, living entity that touches the hearts and minds of generations to come.
And for young musicians aspiring to follow in his footsteps, Lin offers sage advice.
"Make sure you truly love it," he begins. "Once you decide you want to do this, work hard, be prepared, ask questions, be curious, and let your creativity shine!"
Learn More About Wilbur Lin
Wilbur Lin was named Assistant Conductor of the Colorado Symphony and Music Director of the Denver Young Artists Orchestra in June 2023. Lin's career has taken him to symphony halls and opera theaters across the United States, Europe, Latin America, and Taiwan.
Read Wilbur's Bio