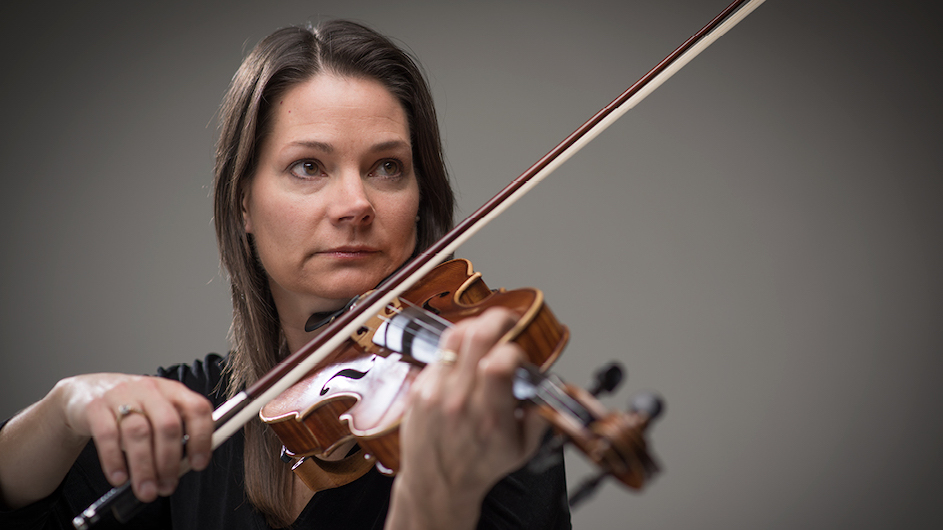 Karen Kinzie
Member of the Colorado Symphony since 1993
Former member of The Florida Orchestra, The Florida Philharmonic, and The Grant Park Orchestra in Chicago
My mother is a keyboardist, and collected pianos, harpsichords, and organs while I was growing up. She played organ in a church and conducted the choir until the age of 84! My dad played the radio, and sang in my mom's choir. Actually, one Christmas my mom gave my dad cello lessons for a year as a gift. After that year, he never bugged my sisters and I about practicing again!
Karen (Whitson) Kinzie has been a violinist with the Colorado Symphony since 1993. Originally from Chicago, she graduated from Indiana University where she studied with James Buswell and Nelli Schkolnikova. Prior to joining the Colorado Symphony, Karen played in The Florida Orchestra, The Florida Philharmonic, and The Grant Park Orchestra in Chicago.
Karen and her husband, Colorado Symphony's Principal Percussionist John Kinzie, perform in the Grand Teton Music Festival every summer. They both also participate in several of the Colorado Symphony's small ensembles together including Once Upon a Time, Mathnotes and Petite Musique. They have four boys: Ryan, Karl, Grant and Reid.
Karen's favorite composers are Brahms and Prokofiev, but she also listens to Coldplay and Sting. Her interests include camping, golfing, skiing, walking, and cooking. When Karen isn't busy driving the boys to cello, piano, orchestra, or baseball, she maintains a private violin studio and runs her own business with Mary Kay, where she is a Senior Independent Beauty Consultant.
Learn more at Kinzieviolin.com.