With crisp fall air sweeping through Denver and the changing of the seasons in full swing, anticipation fills the hearts of music enthusiasts far and wide. In this bustling city, where the Rocky Mountains provide a breathtaking backdrop, the Colorado Symphony and its remarkable chorus have forged an indelible relationship that has shaped the cultural landscape for the last four decades.
As the Chorus celebrates their 40th Anniversary this season, Duain Wolfe, their illustrious founder and director, and Christopher Dragon, the esteemed Resident Conductor of the Colorado Symphony, joined us to discuss the chorus' first performances of the season: a trio of concerts they'll co-conduct from November 17-19 at Boettcher Concert Hall.
With a distinguished career that has spanned decades and a tireless dedication to the pursuit of choral excellence, Duain Wolfe has established himself as a true luminary in the world of choral conducting. His passion for nurturing talent and his ability to elevate voices to celestial heights have earned him three GRAMMY® Awards, one each for Best Choral Performance, Best Classical Recording, and Best Opera Performance.
Beside him, the dynamic and versatile Christopher Dragon brings his own unique artistry to the podium. Conducting anything from Nightmare Before Christmas and Star Wars to a wide variety of collaborations with artists such as the Wu-Tang Clan, Cynthia Erivo and Joshua Bell, to standard and contemporary orchestral repertoire such as Danny Elfman's Violin Concerto, Eleven Eleven; all areas of which he has become highly sought after as a conductor around the world. Christopher has become known for his charisma, high energy and affinity for a good costume, consistently delivering unforgettable performances that has made him an audience favourite.
Join us as we delve into the collective wisdom of Wolfe and Dragon to uncover the secrets behind the music that will unfold on stage this November. From the intricacies of choral direction to the dynamics of balancing rehearsal time, Duain Wolfe and Christopher Dragon shared their insights on this and more.
Q & A with Duain Wolfe & Christopher Dragon
It's not overly common to have two different conductors on a single Colorado Symphony performance like this. How did the concept for this concert come together?
Christopher Dragon: Duain Wolfe is such an integral part of the Colorado Symphony and with our 2023/24 Season being our centennial season I thought Duain had to be on the podium for one of our Classics Series concerts – so was more than happy to share one of my weeks to make that happen. Back in 2016 Duain and I actually both conducted during our singalong concert of Handel's Messiah so it's great to be able to share the podium with him once again.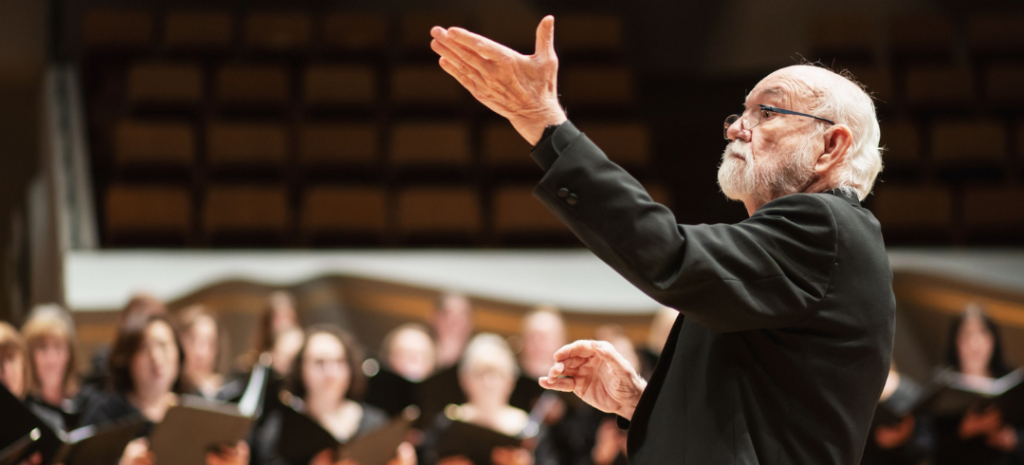 How does the rehearsal process for these concerts differ from a traditional rehearsal week?
Duain Wolfe: The Chorus rehearses alone – as for all concerts – on Tuesday evening in Boettcher Concert Hall. Then for the Wednesday and Thursday rehearsals, Christopher and I have worked out a schedule that allows for significant time with orchestra and chorus together, and then orchestra alone for the Schumann Symphony.
Tell us about the first half of the program. What are you looking forward to and what should audiences be looking for?
DW: Since this Chorus is all about singing and music, they will be singing three great texts that are about music and singing and instruments. What more appropriate tribute could they do on this momentous occasion!
This is the chorus's 40th season and you've been a part of each one, having founded the chorus back in 1984. What does this milestone mean to you?
DW: It's an exciting moment for me and the many musicians of the Chorus and Orchestra who have contributed their talents over the past forty years to create remarkable performances of the great choral-orchestral repertoire of our culture. We have had the opportunity to work together to explore the creative genius of miraculous music and hopefully we have contributed our own miracles along the way.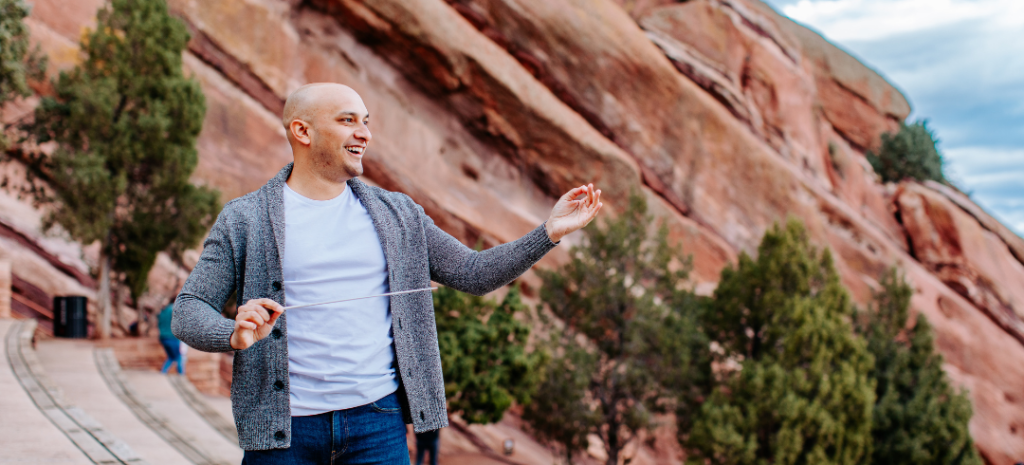 Christopher, what are you looking forward to in leading the orchestra on Schumann's Third Symphony? Are there any unique challenges with this piece?
CD: Schumann is a composer whose music has always held a special place to me, and I believe his orchestral works aren't performed frequently enough. Quite often the perception with his symphonies are that they are not orchestrated well and because of that can come across as heavy/stodgy– however I don't perceive this and believe Schumann's orchestral works are lively, fresh, and should be approached in a similar way of chamber music. During my entire time with the Colorado Symphony a symphony by Schumann has not been performed in our Classics Series – in fact, the last time we performed this piece was in March of 2008 with Marin Alsop – so this is especially something to look forward to!
Over your years with the Colorado Symphony, you've conducted everything from Brahms to the Wu-Tang Clan. How does the preparation differ for a Classics concert versus a movie or pops collaboration? What are things you enjoy about both and what challenges you? 
CD: I genuinely enjoy the variety of concerts I get to conduct with the Colorado Symphony and think it is what really makes our orchestra standout as a leader of what a modern-day orchestra is. All of the different types of programs we perform are equally valid and for that reason I take them all with the same amount of preparation. I want us to give the best performance possible regardless of what the repertoire might be. The biggest challenge about this would be the amount of preparation that goes in to constantly learning such a wide variety of music.
See Wolfe & Dragon take the Podium
Celebrate the 40th Anniversary of the Colorado Symphony Chorus as Duain Wolfe takes the podium in Boettcher Concert Hall on November 17-19. Resident Conductor Christopher Dragon leads the orchestra on the second half with Schumann.
Get Tickets to Wolfe & Dragon