Young Professionals of the Colorado Symphony
The Crescendo Society's mission is to foster a community of young professionals while creating a deeper awareness and appreciation for the Colorado Symphony among the next generation. Starting at $250 per year, you can join an enthusiastic group of young professionals. Receive discounted tickets, meet the musicians, attend happy hours, get invited to donor-only events, and much more.
Follow the Crescendo Society:
Want to try it out FREE? Join at the Patron Level for free and help make a difference by supporting the arts today.
Membership Benefits
Forte Level
Early single ticket access before the public.
Complimentary tickets to Crescendo Society events (this membership pays for itself!)
Annual one-time 20% discount at the Guild Gift Shop in Boettcher Hall (get your symphony gear).
Invitations to Open Rehearsal experiences.
Recognition in Soundings, Colorado Symphony's magazine available at all performances.
Membership Benefits
Patron Level –
FREE!
Not sure if you want to join yet? Sign up for free and we will keep you in the know for upcoming Crescendo Society events. Just by signing up, you receive:
Invitations to Crescendo Society events.
How to Sign Up:
Log into your Colorado Symphony Account (or create one) and check the box "Young Professionals Member" on the Interest Groups page and click "Save". Shortly after you'll get a welcome e-mail and start receiving exclusive discounts.
Join the Associate Board
The Crescendo Society and its programs are designed and managed by the Associate Board. The Board is an excellent way to become more involved in your community and gain professional volunteer board experience.
Interested in becoming a Board Member? Contact Lillie Burrow Combs, Associate Director of Individual Giving at 303.308.2475 or via e-mail.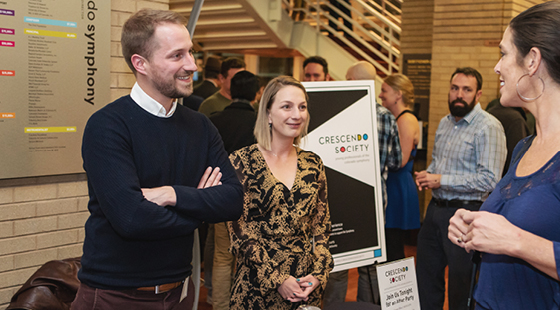 Colorado Symphony Associate Board
---
Chair
Liz Hartsel, Esq., Fortis Law Partners
Members
Corinne Abele, Consulting Manager, CapTech Consulting
Dalton Beasley, Senior Account Executive, DocuSign
Christopher Cole, Esq., Sherman & Howard
Stephanie Danner, Esq., Davis, Grahams, and Stubbs
Ashley Dodge, Independent Consultant
Leigh Horton, Esq., Ogborn Mihm
Kim Marroquin, Lead Demo Architect, Salesforce
Steph Meyers, Environmental Scientist, Environmental Protection Agency
Molly Phillips, Director of Compensation & Benefits, Century Communities, Inc.
Brittany Pyle, Executive Assistant, Food Bank of the Rockies
Maggie St. Clair, Major Gifts Officer, Energy Outreach Colorado
Alex Thomas, Esq., Sherman & Howard
Nicholas Tisherman, 2nd / Assistant Principal Oboe, Colorado Symphony
Questions?
Contact Associate Director of Individual Giving, Lillie Burrow Combs, at (303) 308-2475 or via e-mail.